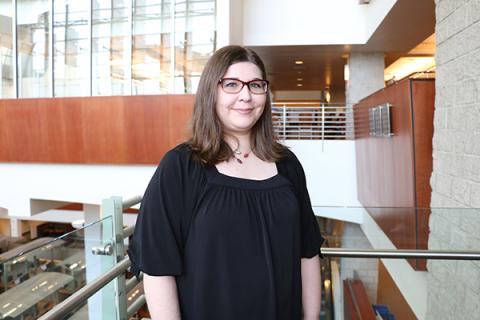 Amanda Koziura has joined the UNLV University Libraries as the Head of the Scholarly Communication and Data Services department. In her new role, Koziura will establish this newly created department within the University Libraries and lead the collaborative development of Libraries' programs and tools that support UNLV researchers in creating, sharing and demonstrating the impact of their work.
"We are pleased to welcome Amanda to UNLV to lead several Libraries efforts to support the university's Carnegie R1 classification," said Maggie Farrell, Dean of UNLV Libraries. "Her efforts will help ensure the Libraries are a one-stop shop for faculty and student researchers."
In addition, Koziura will lead the Scholarly Communication and Data Services team in providing organizational leadership and expertise in the development of emerging service areas for UNLV Libraries. This will include the support of data-intensive research, open scholarship and publishing, emerging scholarly tools and techniques, reputation management, and measuring research impact.
Koziura was previously the Digital Scholarship Librarian at the Freedman Center for Digital Scholarship at Case Western Reserve University. In that role she managed the operations and student personnel of the Center, developed campus collaborations to advance digital scholarship, revamped the library's instruction program, and partnered with faculty to apply digital scholarship tools and methods to research and instruction.
She holds a Master of Library Science from the University at Buffalo and a Bachelor of Arts in Theatre and English from Skidmore College.