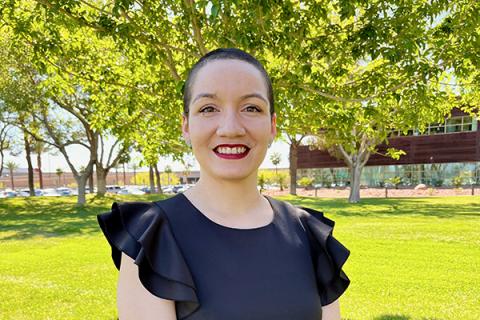 Aidy Weeks has been named the director of UNLV's School of Medicine Library (SOML). She had served as the interim director since February 2021.
"During the past year, Aidy has demonstrated strong leadership skills in steering the School of Medicine Library through the pandemic while supporting the faculty, medical students, and physician trainees in the Kirk Kerkorian School of Medicine at UNLV (KKSOM). We are pleased that she will be the permanent director as we prepare to transition to the new Medical Education Building this fall," said Maggie Farrell, Dean of Libraries.
Weeks joined the UNLV Libraries in 2019 primarily focused on graduate medical education (GME) instruction and consultations and managing the SOML collections. As director, Weeks will lead efforts to develop SOML programs, collections, and services that fully support the curriculum in the KKSOM.
She works closely with Farrell and Kirk Kerkorian School of Medicine leadership on initiatives to support medical students, clinical faculty, residents, and fellows to make a positive impact on research, scholarship, and the patient care journey, and supporting Las Vegas' efforts to improve health care across Southern Nevada. In addition, Weeks is a member of the University Libraries Leadership Team.
As director, she will oversee the implementation of the SOML strategic plan, which is linked to both supporting KKSOM's strategic pillars and UNLV Libraries strategic plan. The SOML also is introducing emerging technologies and investing in 3D printing, projects which are partially funded by Coronavirus Response and Relief Supplemental Appropriations Act funds.
Weeks will also oversee partnerships with KKSOM faculty to integrate library resources into classroom and clinic instruction, and efforts to map library resources to better support the medical curriculum, research, and scholarship.
Prior to joining UNLV, Weeks served as the Systems Librarian and Medical Library Tech Assistant at Orlando Health, a not-for-profit healthcare organization and a community-based network of hospitals and healthcare facilities located in Central Florida.
She earned an Associate of Arts in Sociology from Valencia College, a Bachelor of Arts in English from the University of Central Florida, and a Master of Science in Library and Information Studies from Florida State University.
Learn more about the School of Medicine Library.