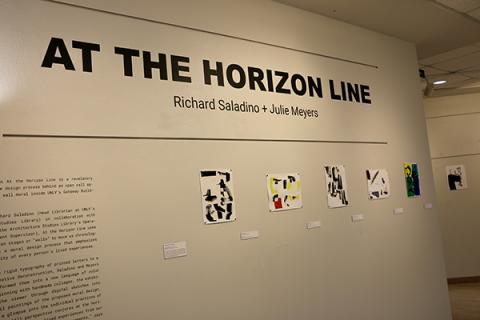 Stop by the Jessie & Bryan Metcalf Gallery on the second floor of the Richard Tam Alumni Center to visit the new exhibit, "At the Horizon Line" by artists Richard Saladino and Julie Meyers from the Architecture Studies Library now through April 8.
The joint exhibition At the Horizon Line is a revelatory glimpse into the design process behind an open call application for a wall mural inside UNLV's Gateway Building.
Created by Saladino, head of UNLV's Architecture Studies Library, in collaboration with Meyers, the Architecture Studies Library's Operations and Student Supervisor, At the Horizon Line uses a series of seven stages or "walls" to move us chronologically through a mural design process that emphasizes the individuality of every person's lived experiences.
Subjecting the rigid typography of printed letters to a process of creative deconstruction, Saladino and Meyers creatively reformed them into a new language of color and shape. Beginning with handmade collages, the exhibition guides the viewer through digital sketches into large-scale oil paintings of the proposed mural design, and ends with a glimpse into the individual practices of the two artists. "All perspective conjures at the horizon line. We move through our lived experiences from our point of view within our respective environments," says Saladino.
Although the application was ultimately unsuccessful, this generous assemblage of ideas serves to highlight the kind of unseen labor that plays a vital role in any creative project.