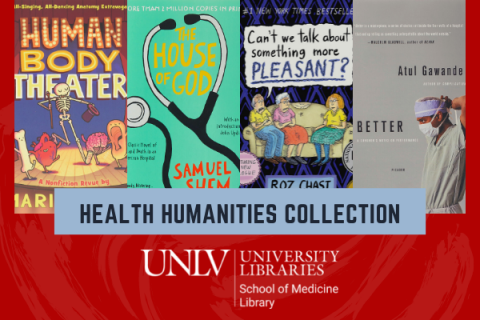 The UNLV Libraries will be diversifying the perspectives in the Health Humanities Collection, housed at the UNLV School of Medicine library, through a new grant from the Network of the National Library of Medicine Collection Equity Grant.
Kathryn Houk, Health Literacy & Community Engagement Librarian, and Jennifer Culley, Lead Acquisitions Librarian, were awarded the grant to include more works representing women physicians with an emphasis on diverse voices, as well as the LGBTQ+ experience.
The Health Humanities Collection provides health professional students, faculty, and clinicians with resources to reflect on their own experiences, feel connected to others in the profession, and learn about the struggles of both practitioners and patients who are part of historically excluded groups.
"Research has shown that reading or hearing stories is a better avenue to changing attitudes and behaviors than facts alone," said Houk. "By providing access to diverse books and graphic novels, the entire UNLV Health community can create space and programming to engage with challenging topics through self-guided reading, book clubs, or building reading and reflection time into the curriculum."
Culley and Houk will identify and purchase a mixture of autobiographical, biographical, fiction and nonfiction novels and graphic novels that will provide students and faculty the opportunity to explore different perspectives from their own. Titles will be in both print and eBook formats.