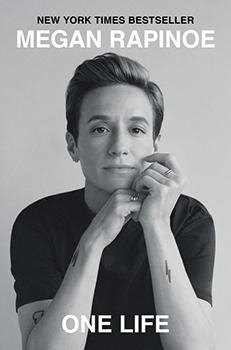 The UNLV Book Club is returning this spring with it's official selection, Megan Rapinoe's memoir, One Life.
In One Life, Rapinoe – an Olympic gold medalist and two-time Women's World Cup champion –  invites readers on a remarkable journey as an athlete activist, looking back on both her victories and her failures, and pulls back the curtain on events we know only from the headlines.
Sponsored by UNLV Athletics and the UNLV Libraries and co-chaired by Director of Athletics Desiree Reed-Francois and Dean of University Libraries Maggie Farrell, the UNLV Book Club is open to all UNLV students, including student-athletes.
There is no charge for UNLV students to join the book club and a limited number of books will be made available on a first-come, first-served basis. Virtual discussion meetings will be held March 25, April 21, and May 20, 4:30-5:30 pm.
Students can join the book club by filling out the registration form.
Funding has graciously been provided by Curtis Myles and refreshments are courtesy of Jamba Juice.
For more information on UNLV Book Club, visit https://unlvrebels.com/feature/Book-Club.