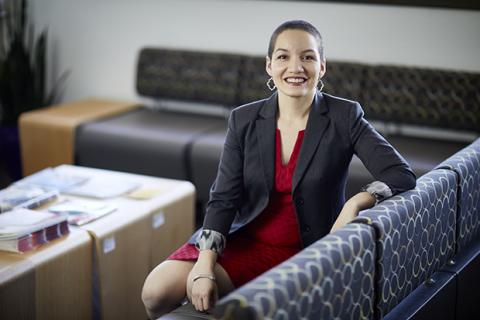 Aidy Weeks has been named the interim director of UNLV's School of Medicine Library. Weeks, who joined the UNLV Libraries in 2019 as the Graduate Medical Education Liaison Librarian and Collections Manager, began serving in her new role at the beginning of February.
"The Libraries are pleased to welcome Aidy into the interim director position at the School of Medicine Library. She brings a decade of health care library experience to the position that will help continue the work of our School of Medicine Library and InfoCommons," said Maggie Farrell, Dean of Libraries.
Weeks steps into the role previously held by Mellanye Lackey, who left UNLV in January to pursue a new career opportunity.
In her new role, Weeks will lead the School of Medicine Library team as it continues to support the work of the UNLV School of Medicine including planning for the new Medical Education Building. She will work closely with Farrell and UNLV School of Medicine leadership on initiatives to support students, clinical faculty, residents, and fellows to make a positive impact on research, scholarship, and the patient care journey, and supporting Las Vegas' efforts to improve health care across Southern Nevada.
Prior to joining UNLV, Weeks served as the Systems Librarian and Medical Library Tech Assistant at Orlando Health, not-for-profit healthcare organization and a community-based network of hospitals and healthcare facilities located in Central Florida.
She earned an Associate of Arts in Sociology from Valencia College, a Bachelor of Arts in English from the University of Central Florida, and a Master of Science in Library and Information Studies from Florida State University.
Learn more about the School of Medicine Library.