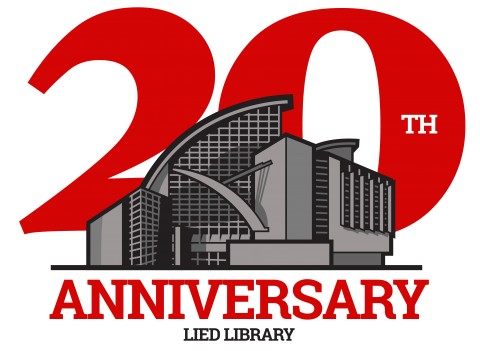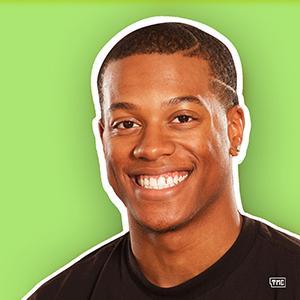 The University Libraries has selected Trenton Miles Carson as the winner of the Lied Library 20th Anniversary Logo Contest. Carson, a junior graphic design major, was the favorite from approximately 20 entries that were submitted during the Spring 2020 semester.
"Trenton's logo design captured the majesty of the architecture of Lied Library, while incorporating the 20th anniversary look," said Maggie Farrell, Dean of Libraries. "While planning continues for what our 20th anniversary celebration will look like in 2021, we are thrilled to have such a beautiful logo designed by one of our students to help us mark the occasion."
We asked Trenton to share his inspiration, why he likes Lied Library, and what his future plans are once he graduates from UNLV.
Tell us about your design. What inspired you?
After doing a bit of anniversary logo research, I became fascinated with the way that some of the logo examples treated the number of years within the logo. The number is usually huge and predominant. I was also inspired by the Library's architecture! The Lied Library is a beautiful building with tons of interesting angles, glass, and curvatures.
What is your favorite part of Lied Library?
My favorite part of the Library is its use of glass all throughout the building. The library feels very open and it's design allows you to get a glimpse of how many people are in it from your very first step through its doors.
How have the Libraries helped you during your time at UNLV?
I've spent many hours, in between class times, in the library. I especially love the quiet rooms which give me a chance to really sit and focus on my work with no distractions. Being in the library makes me feel productive while I'm outside of class. I have been able to take notes, finish homework, take quizzes, and of course design!
What do you recommend students see the first time they visit Lied Library?
If you are entering Lied Library for the first time, I recommend you check out each floor. There are tons of neat spaces, quiet areas, and useful books that I'm sure we could all benefit from.
What are your future career goals?
I am an actor and graphic designer. I'm currently working to expand my freelance business so that in the future, I will be able to hire a team to make my services accessible to a wider range of people. I am also working to get featured in numerous commercials, stage plays, and short films so that in the future, I'll have lead roles in television shows and feature films!