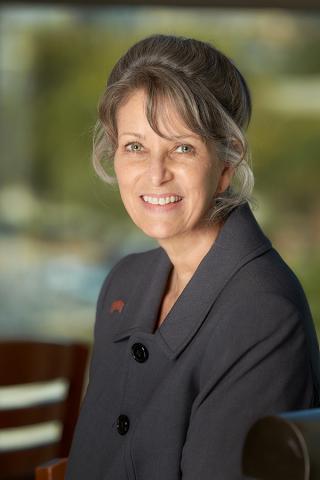 The UNLV Libraries has tapped Cyndi Shein to serve as the Interim Director of the Libraries' Research and Education Division. Shein is stepping into the role being vacated by Associate Dean Pat Hawthorne, who leaves UNLV this month to become the Dean of the University Library at Cal Poly Pomona.
"We are grateful to Pat for her many years of leadership and service to the University Libraries and UNLV, and wish her the best in her new role Cal Poly Pomona," said Maggie Farrell, Dean of Libraries. "We are pleased to have Cyndi stepping into this role to lead our public services areas as we continue preparation for the reopening of Libraries facilities meeting the challenges of providing remote instruction to UNLV students in partnership with our outstanding UNLV faculty."
Shein has served as Head of Special Collections and Archives Technical Services since joining the faculty at UNLV in 2014. In her new role, Shein will oversee many of the Libraries' public services, including Access Services, the Librarian Liaison program, Educational Initiatives, the Makerspace and Multimedia Production Studios, the Computer Help Desk, and Safety.
"The Libraries are positioned to successfully support students and faculty as we navigate the shifting terrain ahead," said Shein. "I look forward to working with the strong team of librarians here at UNLV as we implement new models for both in-person and distance instruction, services, and outreach and guard the health and safety of our students, faculty, and staff."
During her time in Special Collections and Archives, Shein developed a number of projects to increase discovery and access to collection materials. She improved archival processes, including the implementation of UNLV's first archival collection management system, and oversaw a three-year archival backlog elimination project that renders all legacy collections available for research. Shein is currently overseeing a $271,000 project funded by the National Endowment for the Humanities to preserve the Howard Hughes Motion Picture Records and open them up to research. This grant is an interdisciplinary partnership with Dr. Heather Addison that leverages the UNLV Film Departments' subject expertise and the Libraries' technical expertise.
Shein holds a Master of Library and Information Science from San Jose State University, and brings over 20 years of experience working in archives and libraries. She previously held positions at the J. Paul Getty Trust, University of California, Irvine Libraries, University of California, Santa Barbara Libraries, National Baseball Hall of Fame Museum, Library, and Archives, and the Laguna Blanca K-12 School Library.