You can link to subject specific databases in WebCampus, to help your students search for quality journals, magazines, newspapers, books, encyclopedias, and other electronic publications. If you wish to connect students to a specific item within a database, see Linking to Journal Articles on WebCampus.
Legal agreements require that only UNLV affiliated patrons can access library databases. Following the directions listed will ensure that your students can connect to resources from both on and off-campus.
Copy The Link Of An Individual Database
Choose a database from the All Library Databases page
Right-click and copy the link.

Shorten The URL
Depending on the length of the URL, you may need to convert the link to a shorter version by using one of the free services listed below.
Add The Link To WebCampus
Open the page where you would like to place your link
In the box, type the name of the database you are going to use (i.e. Academic Search Premier)
Highlight the database name and then click on "Link to URL"

In the box that pops up,  paste in the URL for the database by either right clicking in the box and choosing "Paste" or by pressing the Control Key and the letter V at the same time.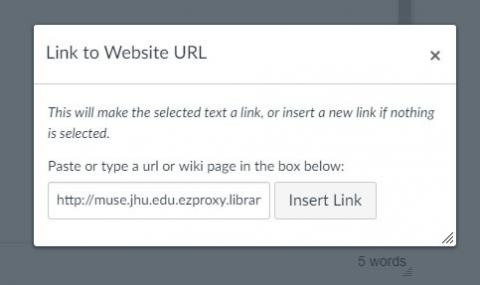 click "Insert Link" to save the link
Scroll down and select "Save" to save the page
Information is subject to change, as vendors update their products. If you encounter problems using the methods outlined above or if you have additional questions or problems, please contact your liaison librarian for assistance.