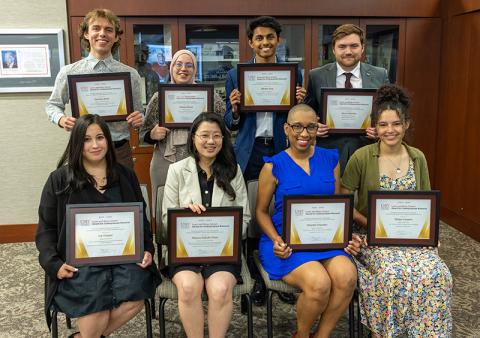 The University Libraries have selected eight UNLV undergraduate students as the winners of the 2023 Lance and Elena Calvert Awards for Undergraduate Research. The awards, funded through an endowment established by Lance and Elena Calvert, encourage undergraduate UNLV students to master the art of research to become successful, self-sufficient, lifelong learners.
This year's winners include:
Emerging Scholar
Allister Dias
Entry: "Ronald Reagan and War Rhetoric in the 20th Century"
Faculty Sponsor: Dr. Bryan Blankfield, Honors College
Advanced Undergraduate
Zachary Billot
Entry: "Municipal Waste in Southern Nevada: Understanding the Obsession with Garbage"
Faculty Sponsor: Caitlin Saladino, The Lincy Institute & Brookings Mountain West
Allyssa Sabelle Chua
Entry: "The Analysis of Wartime Rape Using Postmodern Feminism in the Conflicts of Sierra Leone 1991, Bosnia-Herzegovina 1992, Darfur 2003"
Faculty Sponsor: Dr. Nerses Kopalyan, Political Science
Devan Henriott
Entry: "Richard Owen: A Forgotten Icon"
Faculty Sponsor: Dr. John Hay, English
Creative Works
Safiyya Bintali
Entry: "One Last Month, or Clancy's Time-Box"
Faculty Sponsor: Jaclyn Costello, Honors College
Chantal Chandler & Tabiya Conyers
Entry: "Wearing my CROWN: An Exhibition About the CROWN Act"
Faculty Sponsor: Caralea Cole, Art
Joy Cooper
Entry: "A Tool for Digital Bibliotherapy: Fostering Emotional Resiliency Through A Visual Novel"
Faculty Sponsor: Dr. Sheila Bock, Interdisciplinary, Gender, and Ethnic Studies
---
Applicants submit a reflective essay on their research and a letter of support from a faculty member as part of the application process. Winners receive a cash prize and have their work published in Digital Scholarship@UNLV, the institutional repository for university research.
Watch the Ceremony