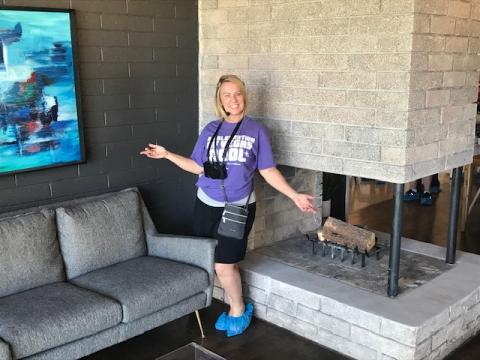 Our Researcher Profile series highlights researchers and who have used resources in Special Collections & Archives for a variety of projects ranging from articles and books to exhibits and documentaries and more.
This week's profile focuses on local resident Amy Raymer who has lived in Las Vegas for 24 years and served as a volunteer for The Neon Museum and Nevada Preservation Foundation for the past 11 years developing educational materials and creating and presenting tours on various aspects of Las Vegas history.
Working for the Clark County School District as a Coordinator for the K-12 Literacy and Language Development Department, Amy uses what she learns from researching and developing Las Vegas historical tours and content to assist teachers in engaging students in history and literacy. She was recently awarded a City of Las Vegas Historic Preservation Commission Annual Award for Excellence in Historic Preservation in Preservation Education for her volunteer role as a researcher and educational programmer for Nevada Preservation Foundation.
1. Tell us a little bit about the project (book, exhibit, article, documentary, report) you researched in Special Collections & Archives.
As a volunteer for the Nevada Preservation Foundation (NPF), and current programming chair for the NPF Board of Directors, I use the UNLV Special Collections and Archives to create and add to NPF neighborhood tours and other historic preservation programming. Initially I started researching for the 2019 "Mid-Mod Mix Up" tour featured during the Home and History weekend programming. That tour included several mid-century neighborhoods, including Paradise Palms, Glen Heather, and McNeil Estates, with a brief drive through the Beverly Green and Bel Air Estates neighborhoods. Special Collections research was crucial in providing more background and context for the famous residents, era, and social aspects of the neighborhoods which contributed to the narrative of the tour. Most recently I accessed UNLV Special Collections to create a new tour in May 2021 focusing on the McNeil Estates neighborhood, as well as doing more research into some of our previously-offered tours to make them "evergreen" with new information and tidbits to keep even the most well-versed Las Vegas history buff engaged.
2. How did you hear about Special Collections & Archives?
As an alumna of UNLV (Master of Education, Instructional and Curricular Studies, 2006 and Master of Arts, Urban Leadership, 2013), I spent a great deal of time in the Lied Library, and the area around the Special Collections and Archives department always drew my attention. The walls outside the Special Collections library are typically filled with photos, maps, memorabilia and other featured items from the many collections housed in Special Collections and Archives, and it provides a sampling of the vast Las Vegas artifacts housed within. Additionally, When I was a tour guide with the Neon Museum, Special Collections had an exhibition of the Vegas Vic signage artifacts, which included the original Pioneer Club sign blueprints, which made for a fantastic outing for a group of volunteer guides and allowed us a preview of all we could access in the Collections. And of course the social media presence of UNLV Special Collections and Archives is impressive--which was also instrumental in reaching out to access the collection for my tour research.
3. What resources, collections or materials from Special Collections & Archives were most impactful for your research?
One of the greatest resources in Special Collections and Archives is Su Kim Chung, Head of Public Services for Special Collections. When I reached out to begin my research on Las Vegas neighborhoods, she was instrumental in pointing me toward materials that helped provide context to who lived in these "new" neighborhoods; how much they paid for their homes; what social events they hosted; the connection Las Vegas history through builders, residents, occupations; and what impact these communities have had on our history. The Elmo Bruner Real Estate Appraisal collection was hugely helpful in getting insights into the appraisal values of homes in the neighborhoods, and the City Directories from the era were essential in locating who lived in the neighborhoods, what they did for a living, and what social connections they held. Additionally, the Oral History collections provided me with a fascinating retelling of local history for these neighborhoods.
4. How did you become interested in the topic(s) you wrote about?
In my role as a Neon Museum volunteer tour guide for 8 years, understanding the connection between the narrative of the signage in the boneyard (each area of the yard focused on era or element of Las Vegas history through the signage) was hugely important in providing background and historical context to our visitors. That love of Las Vegas history inspired me to purchase and renovate a home near McNeil Estates, and then later a home in the John S. Park neighborhood which I restored to its 1954 construction. I most recently purchased a 1961 Palmer and Krisel Model 2 home in Paradise Palms due to my love of the architecture and history of the neighborhood and am trying to honor the original features of the home through a period-specific renovation of the property. Connecting my love of the Las Vegas community, its neighborhoods, architecture, and history through the creation of tours for Nevada Preservation Foundation brings me great joy, and it is my hope that our tour guests enjoy seeing the Las Vegas of the past through our tours.
5. What surprised you the most about your research in Special Collections & Archives?
The City Directory was my absolute favorite resource, and I go back frequently to access the years they have available. Essentially it is a phone book, but rather than needing to know someone's name, you just looked up the street and cross street and you would find who lived in the house, where the head of the family worked, what position the head of the family held, how many children were in the home, and any other social information (for example, Davy Pearl's--boxing referee and owner of Davy's Locker on Maryland Parkway and Desert Inn--wife Janet Pearl was the president of a local sorority and their home served as the sorority headquarters). It was like the very first Google background search, and it was updated each year and delivered to your doorstep!
6. What advice would you give to other authors/researchers using Special Collections & Archives? (Otherwise known as what I wish someone had told me before I visited Special Collections & Archives)
Reach out to Special Collections and explain what you are researching and what you are hoping to find. The staff is incredibly knowledgeable about the resources within the collections and can pull items to get you started. After I shared the information on the neighborhoods I was researching, they suggested I look into the Elmo Bruner Real Estate Appraisal collection, which provided me with a starting point for many properties that yielded a great deal of information for my tours.
7 .How did your research in Special Collections & Archives change your perceptions about Las Vegas?
Las Vegas is made up of all types of people, and we have always lived next door to someone interesting--and sometimes even famous (or infamous). Casino workers, educators, engineers from the Nevada Test Site, Las Vegas lounge performers, newspaper reporters, Mafia-connected managers, Elvis' Las Vegas music conductor, showgirls, bank managers and eccentric Lieutenant Governors make up our city, and our community is just as vibrant and interesting as anything you will find on The Strip today. Our community has always been unique and interesting--and Las Vegas continues to honor that tradition as we move into the future.
8. What are you working on next?

NPF is currently working on launching the Clark County Wedding Heritage Project in February 2022, and in preparation for Home and History in the spring of 2022, there are many more Las Vegas neighborhoods, personalities, and events to research. So there are many more historical projects to dig into at UNLV Special Collections and Archives.
What advice would you give other researchers?
Reach out to the staff and have them help you search out new avenues and materials on your research topic. They were hugely helpful in providing me with things I didn't know existed, or that would help me, and those suggestions always helped me gain more understanding of the connectedness of history, our community, and our organizations.