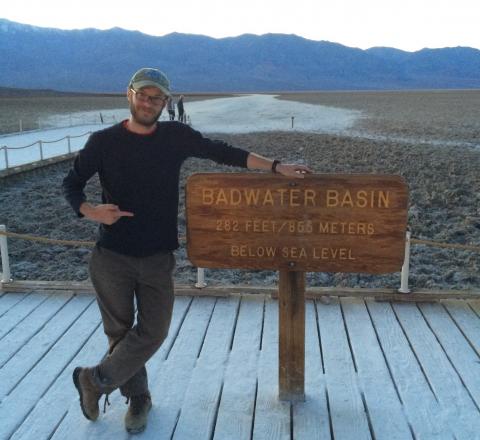 Our Researcher Profile series highlights researchers and who have used resources in Special Collections & Archives for a variety of projects ranging from articles and books to exhibits and documentaries and more.
This week's profile focuses on Kevin Brown, a research associate in the University of California, Santa Barbara's, Environmental Studies Program who has also worked as a journalist and as a researcher for the National Park Service and the American Society for Environmental History.
1.Tell us a little bit about the project (book, exhibit, article, documentary, report) you researched in Special Collections & Archives.
My book, Devils Hole Pupfish: The Unexpected Survival of an Endangered Species in the Modern American West (Reno: University of Nevada Press, 2021), asked how one of the rarest fish species on Earth has managed to survive since the late nineteenth century, while many of its close genetic and geographic relatives have become extinct. Answering this question required embedding the species in the history of science, federal land management politics, and the administration of water law in Nevada and at the federal level, among many issues.
2. How did you hear about Special Collections & Archives?
I began searching for archival resources and stumbled on the UNLV special collections and archives catalog, I believe. I visited the archives for the first time in February 2014—and sadly, my notes don't record how I realized I needed to spend time at UNLV!
3. What resources, collections or materials from Special Collections & Archives were most impactful for your research?
Two collections at Special Collections and Archives were critical for the story I told in Devils Hole Pupfish: the papers of the Desert Fishes Council, and records from the U.S. v. Cappaert court case. The Desert Fishes Council was an organization started by biologists concerned for desert fishes, generally, and the Devils Hole pupfish, specifically. The group's activism in the 1970s played a key role in the pupfish's survival. The court records helped me understand the nitty-gritty of a seven-year legal drama centering around the pupfish and water rights, and which played out in federal courtrooms from Las Vegas all the way to the U.S. Supreme Court.
4. How did you become interested in the topic(s) you wrote about?
I initially began researching the Devils Hole pupfish while working as a contractor for the National Park Service (through a cooperative agreement with the American Society for Environmental History). I finished a report to NPS on the pupfish in 2017, but then continued to research and write until I had a (much different) book manuscript in my hands!
5. What surprised you the most about your research in Special Collections & Archives?
The first time I visited Special Collections and Archives, I wasn't sure what to make of the Cappaert court records. I essentially put them aside and focused on the Desert Fishes Council papers. Several months after leaving Las Vegas, I realized how important these court records were and that I would need to return to examine them more carefully. I could have been mad at myself for missing an opportunity to consider them earlier, but sometimes it is important to dig into a collection only once you are ready for it.
6. What advice would you give to other authors/researchers using Special Collections & Archives? (Otherwise known as what I wish someone had told me before I visited Special Collections & Archives)
Always ask an archivist if they have any other suggestions of collections to look at related to your interests besides those you've already identified in the catalog!
7. How did your research in Special Collections & Archives change your perceptions about Las Vegas?
Initially, I didn't think too much about Las Vegas except as the place I was working. After all, Devils Hole and Ash Meadows are ~90 miles away. Gradually, I came to see how essential the connections between the city and its hinterlands were in shaping the story I told, especially through the politics of water.
8. What are you working on next?
For my next book, I'm considering returning to the topic I explored in my doctoral dissertation: the development of the lumber industry in Minnesota and Louisiana during the late nineteenth and early twentieth centuries.
9. If you are from out of town, what other places did you visit (could be other sites for research, restaurants, etc.)
On one weekend when the archives were closed, I camped at Valley of Fire State Park. It was a perfect place to recharge after sitting in the reading room all week!
10. What is the biggest challenge you faced while working on your project?
It is sometimes tough to know when you are "done" researching a project. I still had a short list of archives I'd have liked to visit right up until the book was headed out for review. (The pandemic also helped make it clear when I was finished with archival trips.)
11. What advice would you give other researchers?
Patience is a virtue in archival research and much else.