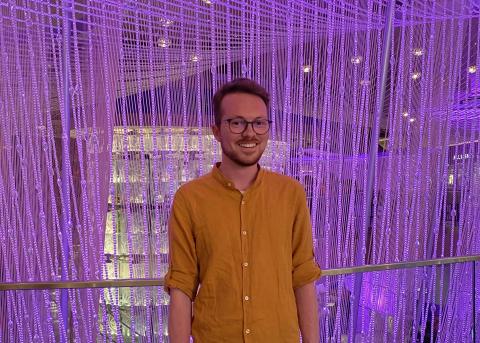 Our Researcher Profile series highlights researchers and who have used resources in Special Collections & Archives for a variety of projects ranging from articles and books to exhibits and documentaries and more.
This week's post focuses on the work of Kennen Sparks, who is currently pursuing a Masters Degree in the Geography Department at Miami University, Ohio. He graduated with a BA in International Studies from Utah State University in 2019.
1. Tell us a little bit about the project (book, exhibit, article, documentary, report) you researched in Special Collections & Archives.
I am currently working on my master's thesis which deals with the use of place names on and around the Las Vegas Strip in marketing, particularly towards out-of-town visitors. Place names are critical because they help connect what someone thinks or imagines to a physical location—thus certain names are more important because of greater recognition and salience.
2. How did you hear about Special Collections & Archives?
When helping me plan out my research, my advisor suggested that I look into any archives that would possibly contain any maps or marketing material about the Las Vegas Strip. Special Collections and Archives was the only one to really have what I needed to gather sufficient data. The staff was always prompt in responding and extremely helpful in pinpointing the exact materials that would be best-suited for my project.
3. What resources, collections or materials from Special Collections & Archives were most impactful for your research?
I mainly used the collection of the Las Vegas Magazine. This is a weekly magazine that highlights current entertainment and ongoing events while also providing basic information for tourists, with maps, lists of shows and restaurants, etc. Special Collections & Archives covered the exact period of time I needed, resulting in my having nearly 210 maps over 15 years of both the Las Vegas Strip and Downtown Las Vegas!
4. How did you become interested in the topic(s) you wrote about?
There are two parts to this: first—I have always been interested in geography. The first thing I remember for asking for my birthday (the third one) was a Merriam-Webster Pocket Atlas and my grandparents delivered. Ever since then, my appetite for all things geography has been insatiable. The second part—Las Vegas—came about because my father hosts a biannual conference on the Strip. I love coming to Las Vegas and when I mention this to others, I inevitably get strange looks because of their own perceptions of Las Vegas. Las Vegas is so much more than just a gambling city. Its history and culture are unique among American cities, and in undertaking this project I hope to show people that.
5. What surprised you the most about your research in Special Collections & Archives?
I was surprised at how close you get to history. In the hours I spent flipping through the Las Vegas Magazine collection, I "saw" old resorts disappear, new ones built, and some that were started but never finished. The dynamics of Las Vegas are incredible—even with all the ups and downs of the past two decades, it still manages to be world-class destination that appeals to many people.
6, What advice would you give to other authors/researchers using Special Collections & Archives? (Otherwise known as what I wish someone had told me before I visited Special Collections & Archives)
Take your time! Their collections are one-of-a-kind. There is so much to explore and learn, which can really help people understand Las Vegas better.
7. How did your research in Special Collections & Archives change your perceptions about Las Vegas?
Researching at the Special Collections and Archives helped change my perceptions by showing that you can still easily see much of the past—Las Vegas is notorious for its constant cycles of change but the Special Collections and Archives show a Las Vegas where the past is still very much alive and within reach.
8. What are you working on next?
I have one more year left of my program at Miami University in Ohio. Most of that I'll spend on writing the actual thesis. After I graduate…who knows? I'd really like to dedicate my life to changing perceptions of places for tourists because there is so much to see, because what tourists choose is largely based on perception and those perceptions don't live up to the place (like Las Vegas).
9. If you are from out of town, what other places did you visit (could be other sites for research, restaurants, etc.)
This is a hard question to answer. It isn't a trip to Las Vegas without stopping at the Cracked Egg (Green Valley Ranch) or eating at China Poblano (The Cosmopolitan of Las Vegas). This past trip we discovered Saint-Honoré donuts in Spring Valley and Din Tai Fung in Aria. Dr. Chung recommended visiting The Writer's Block—an excellent detour! In my quest for tourist maps, we visited some shopping centers as well, such as the Grand Canal Shoppes at Venetian, Miracle Mile at Planet Hollywood, and both Premium Outlets. Normally when we come for my father's conference we stay at the Cosmopolitan, but this time we were able to stay at the Luxor and ride the slanted elevators.
10. What is the biggest challenge you faced while working on your project?
The maps are only one part of my project, with the other part involving interviews of marketing professionals. I have not been able to get many interviews as I thought, but I also have more maps than I ever imagined I would find thanks to Special Collections and Archives!
11. What advice would you give other researchers?
Research what you love and always be open to new perspectives about a place. A year ago, I never imagined that I would be working on a project that involved finding maps of Las Vegas. It took a while to figure out exactly what I wanted to spend 18 months of my life researching and writing about, but it was worth the time and effort. Sometimes the best projects aren't always in typical places.