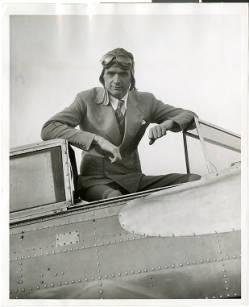 The creative process to draft and create a film follows a complex path. It goes through various stages of edits and additions in order to create a film as close to the image in the producer's mind. The Howard Hughes Motion Pictures Papers (HHMPP) stored at UNLV Special Collections and Archives showcases this creative process in all its beauty and all its mess, highlighted in the Sky Devils portion of the collection. Sky Devils was filmed in 1932 and features Hollywood stars Spencer Tracey and Ann Dvorak. This film began as an untitled air comedy, and went through Hughes' and his executives fine tooth comb before it became the final version known to the wider world.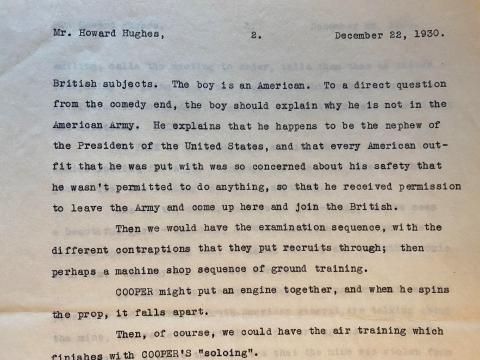 The filmmaking process typically begins with the adaptation of a literary work after an executive decides a synopsis (also known as a "treatment") is worth moving forward towards production. When advertising potential film ideas, a screenwriter takes their extensive work and distills it down into what is referred to as a treatment. This serves as a detailed synopsis that elaborates on character traits, scenes, and plot scenarios to be used in the creation of the screenplay. On December 22, 1930, Hughes received a treatment of an untitled comedy, which would go through various name changes, from Cadets to Ground Hogs to finally Sky Devils.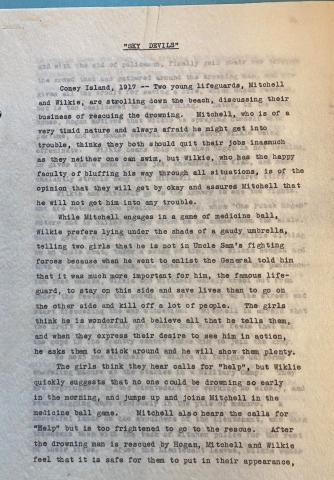 The copious amount of edits are evident in the screenwriters', Joseph Moncure March and Edward Sutherland, own handwriting. Also included are the suggestions and edits from the early 20th century humorist, Robert Benchley. After multiple rounds of drafts and editing, the writers complete and use a production script onset that details actor lines, camera angles, and even plot sequences.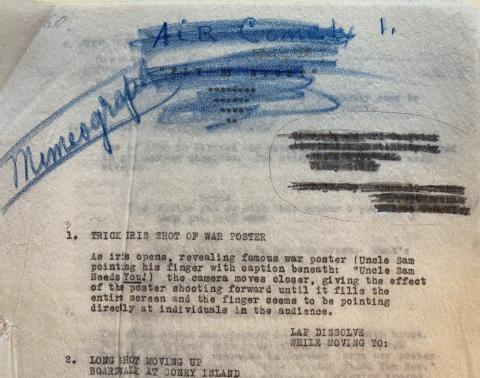 Drafts and edits from the revision process are well represented in the Howard Hughes Motion Picture Papers for a number of Hughes' films. From his earlier years with The Caddo Company, Inc., films including The Racket (1927), Hell's Angels (1930), and Scarface (1932), to his later works with both Hughes Production's, including The Outlaw (1943) and RKO's The Conqueror (1956), the HHMPP is a rich resource that follows the screenwriting and filmmaking process from start to finish.
Ryan DiPaolo is the project archivist working on the "Inventing Hollywood: Preserving and Providing Access to the Papers of Renegade Genius Howard Hughes" joint project sponsored by the UNLV Libraries Special Collections and Archives and the UNLV Department of Film, which is funded by a generous grant from the National Endowment for the Humanities.