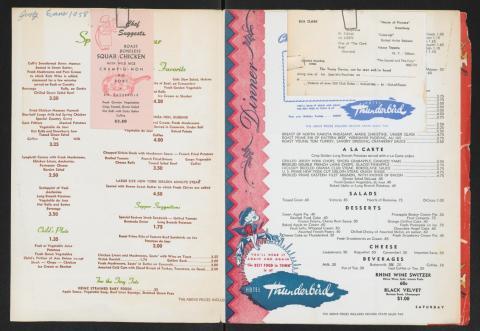 Eadington Fellow Dr. Ashley Allen is a cultural geographer focused on the socio-cultural impacts of climate change and natural hazards. She earned her Ph.D. in Geography and Anthropology from LSU, where she focused on memory work as a form of resilience and adaptation. Her current work has been focused on how we see the impacts of climate change in the American Southwest through changes in everyday practice, including the food we eat.
She will present the next Eadington Fellow Colloquium, "What's for Dinner? How Las Vegas' Casino Menus Have Evolved Due to Climate Change", on Friday, June 16 at 3pm in the Goldfield Room at Lied Library. The event will also be livestreamed.
Since the first hotels opened on Fremont Street and Las Vegas Boulevard in the 1930s and 1940s, Las Vegas casinos have had a reputation for decadence, excitement, and luxury. Las Vegas became the embodiment of the idealized American dream, where one could enjoy themselves while gambling, drinking, and dining to their hearts' content. Nothing had to be done until the trip was over... or the money ran out, whichever came first.
This reputation has continued into the present day when millions flock to Las Vegas's casinos each year for gambling and entertainment and to dine at one of the many on-site restaurants. To many, Las Vegas still represents these things: A time or a place where what happens there stays there, where the water is always warm, the drinks are always cold, and the rules don't really matter outside of the casino floor.
Despite this, there are a few things that not even the most luxurious resort in Las Vegas can ignore. Air quality, weather, water availability, and even the availability of the food we eat are just some of the many aspects of daily life that are being impacted by the rapid changes in our planet's climate. The public is beginning to notice, asking themselves if habits must change to protect our environment or if they plan to keep rolling the dice until the Earth's luck runs out.
As society becomes more environmentally conscious, many restaurants are trying to mitigate the effects of climate change, opting for slow food or farm-to-table models, smaller venues, and even labels showing the climate change effects of each dish for consumers to see. The research I conducted at UNLV Special Collections and Archives has focused on determining whether or not these tendencies are already manifesting in the cultural landscape of Las Vegas casino restaurants. Specifically, I aim to determine whether or not casino restaurants are making the switch to sustainable food models or if maintaining Las Vegas' larger-than-life reputation takes precedence over addressing environmental concerns.
To do this, I've consulted historic menus from casinos around Las Vegas, focusing on menu offerings. I compared past casino restaurant menus to their current iterations, focusing on the differences in availability and serving sizes over time. I also considered whether or not the menus highlighted the restaurant's commitment to serving sustainable food, buying from local vendors, or demonstrating other forms of environmental consciousness. For more insight into the process casinos use to source and serve delicious food, I've reviewed collections like the Nat Hart Professional Papers, where I found documents about menu planning, food specifications, and casinos' past food ordering standards. From Steak Diane to Oysters Rockefeller, I found that there's a lot to consider when deciding what's for dinner.