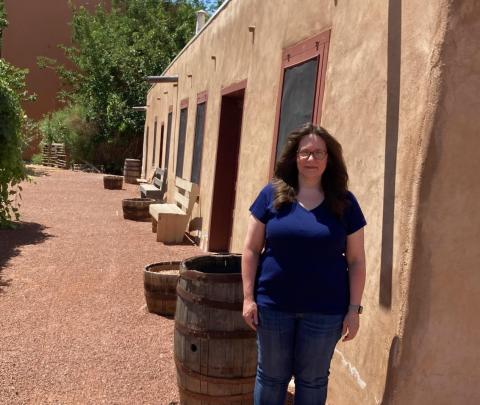 Our Researcher Profile series highlights researchers and who have used resources in Special Collections & Archives for a variety of projects ranging from articles and books to exhibits and documentaries and more.
This week's post focuses on the work of Lisa Messenger, lifelong Las Vegas resident, Board Member of Friends of the Fort, and winner of the City of Las Vegas 2023 Historic Preservation Advocacy Award in recognition of her many years researching the history of the Old Las Vegas Mormon Fort and the publication of her book "The Old Ranch: A Brief History of the Las Vegas Ranch After 1902."
1. Tell us a little bit about the project (book, exhibit, article, documentary, report) you researched in Special Collections & Archives.
My book explores the various persons involved with the property after Helen J. Stewart sold it to Senator William Clark. Most accounts of the ranch are contained in Senator Clark's old railroad records, not available through the normal public or county records, requiring a special research project to discover them. The book also details efforts made by local preservationists who fought to bring awareness to the old adobe on the ranch. The adobe building is the oldest non-native building in the state of Nevada, being a remnant of the Las Vegas Old Mormon Fort of 1855. The Old Mormon Fort stood on ranch acreage.
2. How did you hear about Special Collections & Archives?
I accidentally stumbled onto Special Collections & Archives through an internet search. I printed a document that Google search generated and walked it into the Lied Library. UNLV's staff guided me to the 3rd floor and into Special Collections & Archives. That internet search gave me the break I needed for my research and essentially launched the book. I have been very grateful for everyone's help.
3. What resources, collections or materials from Special Collections & Archives were most impactful for your research?
I can only guess how many visits I made to research the Union Pacific Railroad collection, perhaps 40 visits by now. It was essential to my work and the book would not exist without it. The other collections I reviewed are too numerous to list but include Henry Wieking's, Elizabeth Warren's and Anna Dean Kepper's. There were also several oral histories I listened to.
4. How did you become interested in the topic(s) you wrote about?
The Old Ranch became of interest to me after diving into my family history. My great grandfather and grandfather both have extensive ties to early Las Vegas, then I learned that they each spent some time on the ranch. My great grandfather worked for the Mobley Dairy, under Clio C. Mobley in 1913, and my grandfather lived on the ranch when his stepfather leased it from the railroad in the mid 1930's. My search for information about the ranch turned up nothing until a document popped up on Google with my grandfather's stepfather's name on it. That was the break I needed to discover not only about their involvement on the property, but of everyone else's, too. I knew the information had to be collected and made available so that others like me would have an organized source to turn to.
5. What surprised you the most about your research in Special Collections & Archives?
I really was not familiar with the concept of a Special Collections & Archives department. I was absolutely amazed at the types of collections UNLV had acquired. It opened my eyes to the dedication of others to preserve even the smallest details. Those details can be quite crucial when trying to learn the stories of the past.
6. What advice would you give to other authors/researchers using Special Collections & Archives? (Otherwise known as what I wish someone had told me before I visited Special Collections & Archives)
It can be most helpful to share your focus of research with the staff on duty. More than once a collection I did not know about was suggested. What a help they were. Some collections contain photos and negatives that are not digitized. The staff is there to help and their knowledge is invaluable.
7. How did your research in Special Collections & Archives change your perceptions about Las Vegas?
The success of Las Vegas is largely dependent on luxury resorts and neon lights. It was so welcoming to learn that the city's history is so much more than that. I knew my family's history was outside of gambling, turns out they weren't the only ones. Las Vegas began as a life-saving water stop, a Mormon Fort, an oasis of a ranch and then a dusty railroad town before any neon appeared. There were struggles and imperfections along the way. The perseverance of those that believed in a future is admirable.
8. What are you working on next?
My next area of focus continues the Old Ranch subject by researching the Bracken Brothers, Dr. Joseph Kithcart Willard Bracken and Walter Bracken. A lot of folks don't even realize there were two brothers. They each played a fundamental role in the earliest days and perhaps I can organize their life histories into one work.