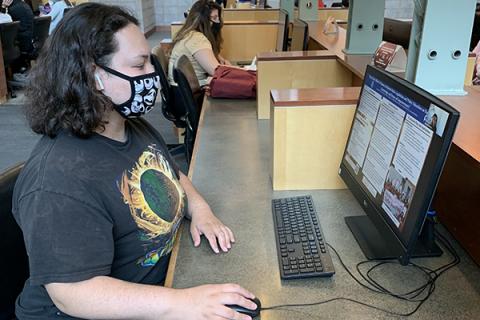 Need a place to take your remote class? The Libraries offers the following services to help you complete your remote course.
Public Computers
Lied Library has 398 computers available for UNLV students. There are computers and printers on all five floors of the building. See computer availability.
The Architecture Studies Library, Music Library, and Teacher Development & Resources Library also have a limited number of available computer stations.
You can bring your own headphones to use, or checkout a limited supply of headphones from the Circulation Desk. Public computers are not equipped with cameras or microphones.
Laptops
The Libraries offers a limited number of laptops for checkout in the building for up to 4 hours. Please fill out the Technology & Laptop User Agreement Form prior to coming to the Circulation Desk. Libraries laptops are equipped with the lockdown browser which may be required for class activities.
Laptops are equipped with built-in webcams and microphones.
iPads
iPads are also available for short-term checkout at the Circulation Desk. All iPads come equipped with built-in microphones and cameras.
Webcams, Headphones, Microphones
A limited number of webcams, headphones, microphones, and other equipment is available for short term checkout.
Wifi
You can connect your personal laptop or mobile device to the UNLV's eduroam using your ACE Account. Wifi is available throughout the Libraries.
Study Spaces
There are 3,600 seats at study nooks, desks, tables, and cubicles located throughout Lied Library and the branch libraries for student use. Quiet study spaces should include minimal talking.
Course Reserves
We have also partnered with CSUN to provide our Course Reserves collection of textbooks and course materials. Search for the availability of books for your courses.
Masks & Cleaning Supplies
Masks are required to be worn by all individuals visiting the Libraries. Disposable masks are available at all service desks in the Libraries.
While the Libraries are cleaned regularly by custodial staff, additional cleaning supplies are available for users at all Libraries service desks.