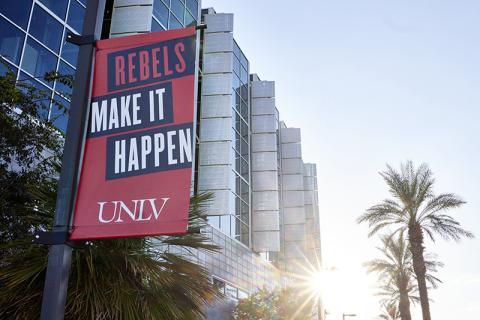 The UNLV University Libraries has been approved as an institutionally independent contributor to the Name Authority Cooperative Program (NACO), part of the Library of Congress' Program for Cooperative Cataloging. UNLV is the only library system in Southern Nevada to join NACO, and only the second in the state.
"This is a tremendous achievement for UNLV and representative of our Libraries commitment to diversifying the historical record and ensuring the inclusion of many great Nevadans who have shaped our region," said Maggie Farrell, Dean of UNLV Libraries. "I commend our Libraries faculty for initiating this process, which included many hours of training, and achieving this status so quickly.
NACO is an institutional commitment that grants member institutions the ability to create and update name authority records in the Library of Congress Name Authority File (LCNAF).
"Name Authority Records provide unique and uniform access points – for example, a standardized form of a person's name – in library catalogs," said Stephanie Fell, Specialized Collections Catalog Librarian and one of the leaders on UNLV's efforts to join NACO. "These records are then available for use by libraries worldwide. They make sure names are consistently identified within a library's collections and also across different library collections, facilitating discovery of library materials, particularly our unique local collections."
In addition to allowing for consistent discovery of library collections, this NACO work ensures Uniform Resource Identifiers for these names are created in the Library of Congress' Linked Data service so they can be linked to Wikidata entities and the Virtual International Authority File, which helps make the records discoverable internationally.
Name Authority Records can be personal names, corporate bodies, or geographic places.
Prior to submitting an application to join NACO, the University Libraries conducted several pilot projects to confirm that the Libraries had names to contribute and update in the LCNAF.
"As part of these pilots, more than 180 records created or updated, including correcting the NAR for Lilly Fong, whose name had been misspelled in the LCNAF, which we could tell in part because UNLV has a building with her name on it," said Carol Ou, Head of Discovery Services. "The pilots demonstrated that we regularly encounter names significant to UNLV and the greater Las Vegas and Southern Nevada community, or otherwise relevant to our library collections, that could be contributed to the LCNAF."
The University Libraries applied to join NACO in Summer 2021 and participated in a specialized training program, with participants from several departments in the Libraries, including Fell, Ou, Amanda Slater, Cyrus Ford, Darnelle Melvin, Sarah Jones, and Tad McGuire.
An external review process and probationary period began in March 2022. During this process, the Libraries worked with an experienced reviewer at Brigham Young University to ensure the newly created Name Authority Records followed NACO guidelines and met quality standards.
During the Libraries' probationary period with NACO, faculty and staff have been able to update or create Name Authority Records significant to UNLV Libraries' collections and local history. Some examples include Harry Reid International Airport (Nev.); McCarran International Airport (Nev.); Alamo Field; Tony Hsieh; Circus Circus Hotel & Casino ; UNLV professor David Baird; University Medical Center (Las Vegas, Nev.); and Goodman, Carolyn, 1939-.
The UNLV University Libraries officially became an independent NACO contributor in September.