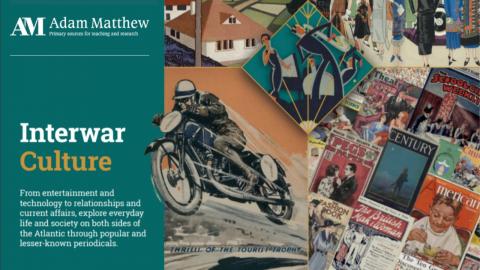 The University Libraries has obtained access to several databases from Adam Matthew Digital and Yale University Press. These new databases include:
Interwar Culture
British and American magazines featuring fiction, current affairs, arts, fashion, and culture.
Includes research tools highlighting subject exhibitions, themes, interviews, and chronology.
Mass Observation Project
Research questionnaires from social scientists asking British residents to reflect on social and cultural topics.
Includes research tools highlighting essays and videos, chronology, and exhibitions.
Foreign Office Files for South East Asia, 1963-1980
Correspondence, reports, maps, and other primary source evidence of British Foreign Office involvement in Indonesia, Malaysia, Singapore and the Philippines.
A&AePortal
A database of important art and architectural history scholarship from some of the world's finest publishers and museums. Content is broken down by field, subdiscipline, and geographic region. The portal also includes an image search page.
---
For a complete list of databases available through the University Libraries, visit our A-Z Database guide.