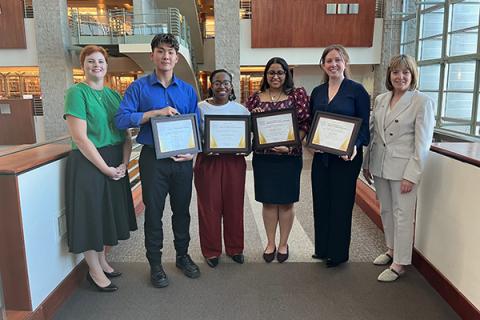 The University Libraries have selected four UNLV undergraduate students as the winners of the 2022 Lance and Elena Calvert Awards for Undergraduate Research. The awards, funded through an endowment established by Lance and Elena Calvert, encourage undergraduate UNLV students to master the art of research to become successful, self-sufficient, lifelong learners.
This year's winners include:
Kaesee Bourne
Entry: "Discoveries in the Sand"
Category: Creative Works
Faculty Sponsor: Sean Neiswenter, Life Sciences
Andrew Kim
Entry: "The Theoretical Challenges in Ukraine"
Category: Emerging Scholar
Faculty Sponsor: Martha Lizabeth Phelps, Political Science
Elisa Hink
"The Federal Elections Bill and the End of Reconstruction in 1890"
Category: Advanced Undergraduate
Faculty Sponsor: David Tanenhaus, History
Shivangi Sinha
Entry: "Factors Associated with Telemedicine Usage and Acceptance Pre- and Since COVID-19"
Category: Advanced Undergraduate
Faculty Sponsor: Melva Thompson-Robinson, School of Public Health
---
Applicants submit a reflective essay on their research and a letter of support from a faculty member as part of the application process. Winners receive a cash prize and have their work published in Digital Scholarship@UNLV, the institutional repository for university research.
Watch the ceremony