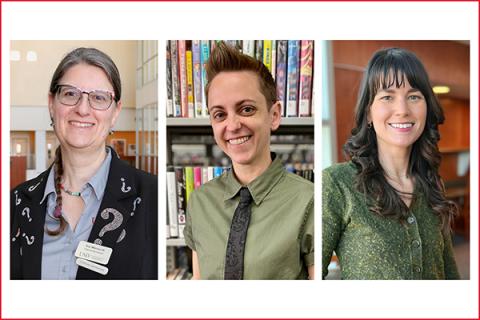 The University Libraries has honored three faculty members for outstanding librarianship, service and scholarship. This year's honorees include Sue Wainscott, Engineering Librarian, Amanda Melilli, Head of the Teacher Development & Resources Library, and Chelsea Heinbach, Teaching & Learning Librarian.
McPhee Librarian of the Year
Sue Wainscott is the 2022 recipient of the McPhee Librarian of the Year Award from the University Libraries. Wainscott was nominated for her dedication and innovative approaches to librarianship that contribute to making University Libraries a respected and valuable part of the university and Las Vegas communities. She often serves as a mentor for her junior colleagues in University Libraries, helping them as they acclimate successfully to both the university and the region. Wainscott was highly active in the Libraries Diverse Collections Working Group, where she was a guiding voice in establishing a quasi-delphi assessment approach. Wainscott serves the engineering liaison librarian.
Outstanding Library Faculty Service Award
Amanda Melilli is the 2022 recipient of the Outstanding Library Faculty Service Award. Melilli was nominated for her remarkable dedication and leadership across her service commitments within the University Libraries and nationally at the American Library Association. During the award period, she served as the Libraries' deputy faculty moderator and the faculty moderator, where she was an advocate for all library faculty and staff. She also demonstrated national expertise by contributing hundreds of hours to the American Library Association's Rainbow Round Table Rainbow Booklist Committee, which evaluated more than 400 titles to create an annual book list utilized by librarians across the world to identify quality LGBTQIA+ titles for babies through young adults.
Outstanding Library Faculty Scholarship Award
Chelsea Heinbach is the recipient of the 2022 Outstanding Library Faculty Scholarship Award. Heinbach was nominated for her outstanding and significant scholarly efforts in 2021 that will have a long and lasting impact on the field of librarianship. In 2021, she co-authored a book, co-authored two book chapters, gave a panel presentation at the Association of College & Research Libraries conference, gave two invited presentations, and was awarded an Institute of Museum and Library Services grant.