For all historians of Las Vegas, Southern Nevada, and gambling there is no better place on the planet to conduct research than the Special Collections at the University of Nevada, Las Vegas. The public documents, the oral histories, the company papers, the memoirs, the photos, the papers of public figures, the newspaper and magazine clippings, and the fascinating ephemera from the casinos and hotels offer a treasure trove of material from which one can reconstruct the life of the city and the lives of the people who built it. Without repositories and archives like Special Collections, research historians would be at a loss to explain the past in a meaningful way to their readers.

Dr. Larry Gragg, Ph.D, Curators' Teaching Professor, Missouri S&T, author of Bright Light City: Las Vegas in Popular Culture and Benjamin "Bugsy" Siegel: The Gangster, the Flamingo, and the Making of Modern Las Vegas.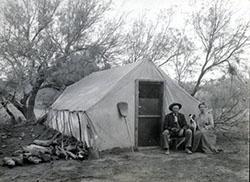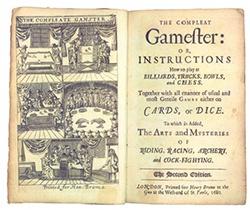 The UNLV Libraries Special Collections and Archives supports researchers worldwide in the interdisciplinary study of Las Vegas, Southern Nevada, and gaming. We are dedicated to:
Building World-Class Collections
As part of the only research library in Southern Nevada, the UNLV Libraries Special Collections is the premiere intellectual hub for the interdisciplinary study of our region and our most important industry, gaming. We actively collect a range of unique, rare, or specialized materials to support original research and scholarship.
Las Vegas is a place that fascinates and excites, but underneath the glamor is an unlikely metropolis in the Mojave desert. Our collections document Las Vegas and Southern Nevada in all its diversity. Our collections tell the stories of the earliest settlements, the growth of Las Vegas as a tourist mecca, and the environmental and urban pressures of a growing city. We collect books, journals, personal or family papers, corporate records, government reports, maps, architectural records, photographs, moving images, and more.
Our gaming collections are world renowned for their depth and breadth. From rare books and broadsides to casino corporate archives, the collections document the history of games and gambling, the economics and regulation of the gaming industry, the psychological and social implications of gambling, and the history of specific hotel and casinos throughout the world.
Our Oral History Research Center actively seeks the unwritten side of Las Vegas's history. We collect oral narratives from a variety of residents, ranging from civic leaders and founders to those who worked behind the scenes in Las Vegas's gaming and entertainment industries.
Our Center for Gaming Research supports scholarly inquiry into all aspects of gambling and provides expert information to the gaming industry. We collect, synthesize, and present timely data on gaming and regularly help the media and other parties interpret trends in gaming. The Center attracts interdisciplinary scholars from around the world to study gambling and gaming at UNLV, and it promotes their path breaking scholarship.
Fostering Discovery and Access
The UNLV Libraries Special Collections has the infrastructure to ensure that the historical materials in its care will be discoverable and accessible for future generations.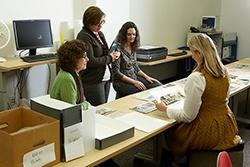 Whether a 17th century book, a box of family photographs, or a warehouse of corporate records, the faculty and staff in Special Collections know what to do. Special Collections employs the latest national standards and best practices in organizing, preserving, and describing rare or historical materials. Our holdings are expertly organized and housed in ways that extend their lifespan. Our professional staff analyze and catalog materials so researchers around the world can find our material through Google searches or in library databases.
When we have the rights to do so, we digitize our most significant historical materials so they are fully accessible on the web. The UNLV Libraries has built a state-of-the art digitization lab where our staff scan and photograph large volumes of material. Catalogers and web designers ensure materials are findable and engaging to a wide range of audiences. Our Digital Collections department have received multiple competitive grants and awards. The collection websites provide worldwide access to our unique and interesting content, ranging from Howard Hughes to Hoover Dam, or from mining history in Southern Nevada to Las Vegas showgirls.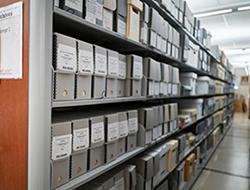 Safeguarding Collections for Future Generations
The UNLV Libraries Special Collections takes many precautions to ensure the safety and security of the valuable materials we preserve. We are committed to the long-term accessibility of our unique collections. None of our materials circulate. Researchers use materials in a pleasant, well-lit space that is constantly monitored by staff. We help researchers handle materials carefully and respectfully. Stack areas are alarmed, and only authorized staff are allowed in secured areas. Our storage areas are environmental controlled and monitored to ensure optimal conditions. We regularly use archival supplies to house materials and extend their life spans. The Lied Automated Storage and Retrieval (LASR) unit ensures we have space for the growth of our collections. The UNLV Libraries also operates the only professionally equipped and staffed preservation laboratory in Nevada. Expert staff protect, repair, and preserve valuable materials with state-of-the art equipment.
Creating New Knowledge
Chances are that you have seen material from the UNLV Libraries Special Collections on television in "Vegas," "CSI," and in any number of episodes of the History and Travel Channels, the Netflix series "House of Cards," or "Las Vegas: An Unconventional History" on PBS's The American Experience. Or perhaps, you have seen our material in museums in Nevada, including the Mob Museum, the Springs Preserve, the Atomic Testing Museum, the Neon Museum, or the Nevada State Museum. But museums are not the only facilities in which you'll find our photographic collections. You may have seen them on Clark County banners hung along the median on the Strip or on the walls in the Regional District Court, Clark County Public Works building, Nevada Water Resources office, the State Historic Preservation Office, or the City of Henderson government offices. Our images are found in Las Vegas resorts as well, including the Cosmopolitan, the Tropicana, and the D Hotel.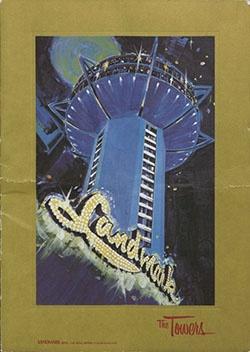 A variety of users regularly consult Special Collections. UNLV students, of course, find a wealth of original paper topics in our holdings, but many of our users come from outside of UNLV. Many community members regularly research their families or neighborhoods. Regional publications and news outlets, such as the Las Vegas Sun, Las Vegas Review Journal, Las Vegas Weekly, Nevada Historical Society Quarterly, and Las Vegas network affiliates, rely on us for historical information and photographs. Scholars and graduate students from around the world, from historians and sociologists to mathematicians and urban planners, have used Special Collections as their laboratory for new and engaging research on Las Vegas and gaming. Recent titles published based on our collections include All the Water the Law Allows: Las Vegas and Colorado River Politics (2021), Gambling with Lives: A History of Occupational Health in Greater Las Vegas (2021), At the Sands: The Casino That Shaped Classic Las Vegas, Brought the Rat Pack Together, and Went out with a Bang (2020), Becoming America's Playground: Las Vegas in the 1950s (2019), Elvis in Vegas: How the King Reinvented the Las Vegas Show (2019), and All in: The Spread of Gambling in Twentieth-century United States (2018).
Promoting Scholarship and Life-Long Learning
The UNLV Libraries Special Collections make history come alive for Las Vegas area students. In partnership with UNLV faculty and Clark County teachers, we actively introduce students to Special Collections and assist them with conducting original research. In addition to piquing their interests, we teach students how to evaluate primary sources critically.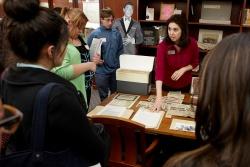 To encourage scholarship in the field of gaming with our unique materials, we offer the Eadington Fellowships to host scholars in a wide range of disciplines. Scholars spend 2-4 weeks in residence conducting research and presenting on their work. We publish their papers and podcasts online.
UNLV is an essential part of Las Vegas's cultural landscape, and the UNLV Libraries regularly sponsor events to showcase our intellectual contributions. For example, we have hosted book signings and lectures for authors who conduct original research in our collections. We also have hosted themed events that highlight our most fascinating oral history interviews.
Exhibits allow our materials to speak to new audiences. Our staff curate exhibits on a range of topics designed to entice our communities to learn something new. We regularly exhibit Special Collections materials throughout the Lied Library and for special events.