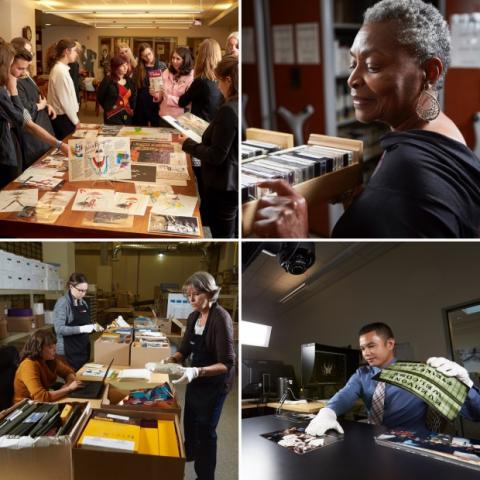 The UNLV University Libraries Special Collections & Archives is committed to documenting our region. Community support for preserving our region's history is essential. We welcome financial gifts to support our mission.
Your gift to benefit Special Collections & Archives could...
Support our efforts to preserve your history
Archival collections rarely arrive in perfect shape. Professionally trained staff in Special Collections& Archives spend hours organizing, preserving, and describing materials to make them available for researchers to use. Your gift may help us hire expert staff to work on collections.
Oral histories provide powerful, first-hand testimonies about lived experiences. Your gift may help us transcribe audio recordings so they are searchable online, help us digitize fragile audio cassette tapes so future generations may access them, or help support the operations of the Oral History Research Center.
Historical film and video footage of our region may spark the imagination for what life was like way back when. Remember Betamax or VHS formats? Your gift may help us digitize these older formats for the future before it is too late.
Support building unique and rare collections
The UNLV Libraries has an internationally recognized rare book collection about gaming dating from the 17th century. Your gift may help support the acquisition of additional rare titles so the prestige and research value of our gaming collections might grow.
19th and early-20th century photographs and manuscript collections about our region are exceedingly rare, and when they are available for sale on the market, they are very expensive. Your gift may help us purchase these materials to ensure they remain publicly accessible in our region.
Support research in our collections
Each year, 5-6 graduate students and faculty from around the country travel to UNLV to conduct in-depth research in our gaming collections. These Eadington Fellows have produced significant scholarship focused on gambling issues in Las Vegas and internationally. Your gift to the Eadington Endowment will help ensure that UNLV continues to attracts scholars to advance the study of gaming in all disciplines.
University Libraries has received several prestigious grants to digitize our region's history and make it available online for 24/7 access. Our digital projects are recognized for their quality and innovation. Your gift may support the growth of our online collections.
Giving Opportunities
Special Collections and Archives works to build world-class collections documenting Southern Nevada; foster discovery and access; safeguard collections for future generations; create new knowledge; and promote scholarship and lifelong learning.
Learn more about how you can support one of our Special Collections projects.