"SHE IS . . . The center of millions of acres of undeveloped lands and the Hub of a mineral territory as rich as lies out of doors ... She is the Gateway of the Great Boulder Dam Project ... and is destined to be the future home of teeming thousands." - Las Vegas Chamber of Commerce, 1924
Featured Online Holdings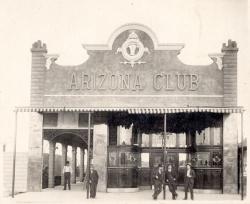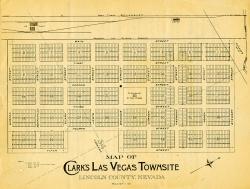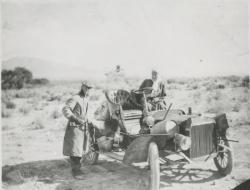 The earliest history of Las Vegas as a town, which dates from the turn of the twentieth century, was well recorded and documented by the people who settled there, whether they were ranchers, railroad men, or were small businessmen and women. Their letters and papers, and more compellingly, their photographs, have left a rich historical record. Special Collections over the years has successfully collected the histories of those individuals, families, and businesses.
Selected Books on Early Las Vegas History
Special Collections has a number of published works on the early history of Las Vegas.
Provide a useful overview:
Provides large sections on early Las Vegas:
Memoirs and oral histories of pioneer residents also provide insight into these early years.
All books are cataloged and can be searched in the library catalog.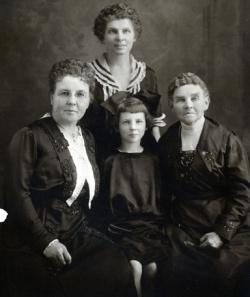 Manuscript and Photograph Collections
The most comprehensive historical records of the earliest days of the town of Las Vegas are those of the Union Pacific Railroad, whose precursor, the San Pedro, Los Angeles, and Salt Lake Railroad, built the line on which it laid out a small town to service its trains. It is impossible to separate the town from the railroad in these early years and the extensive documentation created by this most bureaucratized of corporations assured a detailed record of all the details of building a town, from renting lots, building houses, and railroad buildings, to providing and distributing water through its subsidiary Las Vegas Land and Water Co.
Family papers and photograph collections provide a more personal perspective on this early history. They include the Las Vegas "pioneers" families who in some instances were its first settlers, established its first businesses and over the generations provided its leaders. Besides being active participants in this history several were avid local history buffs, very aware of their own history and the adventure of settling a new frontier, and consequently amateur historical collectors.
Most notable family collections for this early time period
Oral Histories
Oral histories of early Las Vegas residents, some of which are transcribed and others that are in audio cassette form, also provide insight into life in the desert town.
Newspapers
For first hand accounts of life in early Las Vegas, the Las Vegas Age, is an outstanding source. Published between 1905 and 1947, the Las Vegas Age was one of the town's earliest newspapers and survived longer than many others before it was sold to the Las Vegas Evening Review Journal. Early advertisements and articles in the newspaper provide contemporary insight into the young community like no other source can.
Select issues are held in Special Collections but due to their fragility are restricted from general use. Patrons may use the microfilm on the 1st floor of Lied Library or consult the digitized version of the Las Vegas Age, which contains only the following time span of issues: April 7, 1905-1915, 1917-1922, 1924.