From the El Rancho to City Center, the Las Vegas Strip with its mega-resort hotel/casinos has developed a distinctive, aesthetically eclectic architectural style that has been copied and exported to cities throughout the world.
Architectural Records
The architectural records of resort hotels constitute an important record of urban design and development. These architectural collections include complete sets of architectural drawings and sketches, from concept to construction, marketing and presentation portfolios, artist's renderings, photographs, job files, and technical specifications. Many of these drawings, renderings, and photographs have been digitized and form part of the Dreaming the Skyline digital collection.
Featured Online Holdings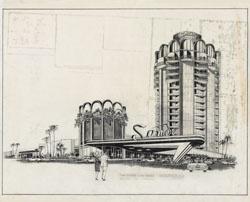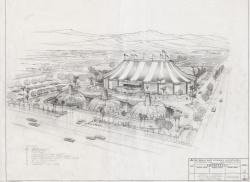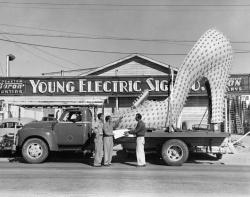 These collections include the lifework of Martin Stern, Jr, who designed the original Las Vegas MGM Grand, and International. It can be said that it was Martin Stern who truly transformed the architectural landscape of Las Vegas, Tahoe, Reno and Atlantic City, who raised the skyline and took the low-slung sprawling strip motel with its two-story room wings around a pool, to the imposing high-rise hotel that now characterizes the Strip. As the premier designer of mega-resort hotels, conceived as self-contained mini-cities, Stern was the master of integrating all the complex functions of the modern resort hotel from parking, landscaping, to showrooms, convention space, and restaurants. He understood the economics of luxury suites and casinos and what colors to put near which bank of slot machines. His design and renovation of casinos have made his plans the subject of interest for students of how interior space of hotel casinos has evolved from the earliest highway motel-with-nightclub settings to the modern themed hotel. And he transported his designs to other places. He was the most prolific architect in Reno/Lake Tahoe and Atlantic City, and designed resorts in Hawaii and Japan.
 
Stern's contemporary Homer Rissman, who came to Las Vegas in 1954 after working in Chicago and Los Angeles, has had an influence on the Strip skyline as extensive as Stern's. The major Strip projects in the 1960s and '70s that Stern did not design, Rissman did. These include the Hacienda, Circus, Circus, The Holiday, and the Flamingo towers. There is an important historical component to these collections. As later renovators of the earliest Las Vegas hotels, these architectural collections contain the original drawing for many historic hotels such as the Sands, Stardust, Sahara, and Dunes. As these properties, and the buildings on them, dominated Las Vegas, the surviving records of these building comprise a unique and significant urban collection.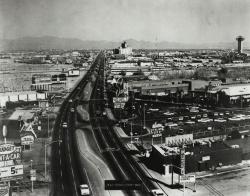 An important complementary collection is the corporate archives of the Young Electric Sign Company (YESCO), which transformed commercial signs into an urban art form that has come to define the Las Vegas nightscape. The lights of YESCO's signs are a landmark unto themselves, objects of historical preservation. They have assumed an architectural dimension that often overawed the buildings behind them.
Stern and Rissman were hardly the only architects working in Las Vegas, although they did dominate the hotel resort business and, therefore, the Strip. Las Vegas is filled with interesting architecture off the Strip, in its older residential neighborhoods, and in its commercial and public buildings, in which the Googie and mid-century modern styles can still be seen alongside contemporary designs of Frank Gehry and the Smith Center.
James B. McDaniel is perhaps now best known locally for his designs for the UNLV campus from its original 1957 master plan to a number of its most prominent buildings including the Performing Arts Center, the Physical Education Complex, and the original Library building. In addition to his work for UNLV, McDaniels designed commercial buildings and developed one of the earliest concepts for a downtown center and monorail system.
The work of noted Las Vegas architects Zick & Sharp is contained in a microfilm collection of their papers that is available in the UNLV Architecture Studies Library.
Gary Guy Wilson and the firm that bears his name has since 1969 designed hundreds of commercial and residential properties in Las Vegas, as well as renovations for a number of hotel resorts.
Alton Dean Jensen came to Las Vegas from Salt Lake City and designed churches in Las Vegas for the Latter Day Saints, as well as community, business and residential buildings in Henderson.
Ethan Jennings, who like many Las Vegas architects emigrated from California, began his career designing residences in San Luis Obispo and later in Las Vegas, designed commercial and residential buildings.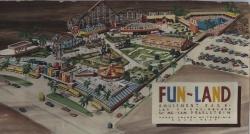 Harold Hayden Whitely, another California transplant, designed elegant residences in Beverly Hills before the Second World War, and came to Henderson, Nevada, in 1942 to work on housing for the BMI plant workers. After the war he designed public school buildings for the Clark County School District. He also designed a number of commercial and public buildings and recreational spaces, including a proposal for the new convention center.
Las Vegas tract housing from the mid to late 1950s is represented by a collection of Elmo Bruner's drawings which include complete set of designs for the different models of houses available in each tract, with plats of street and lot layouts. Bruner also owned his own appraisal company and his collection contains appraisals for hundreds of Las Vegas commercial and residential properties including a number of the strip hotels.
Books
Special Collections collects books on Las Vegas architecture including the iconic 1st edition of Learning From Las Vegas, by Robert Venturi and Denise Scott Brown and the work of architectural historian Alan Hess, Viva Las Vegas: After Hours Architecture. Not quite Las Vegas, but iconic in architectural history, is a large folio 1742 English edition of The Architecture of Andrea Palladio, with notes and remarks from Inigo Jones.
Related collections
Historic Buildings Survey: a series of surveys of approximately 500 Las Vegas residential and commercial buildings prepared by UNLV students in a Nevada History class, 1978-80, modeled on the Historical Properties Inventory of the Nevada Division of Historic Preservation and Archeology. These surveys include brief histories, descriptions, site plans, floor plans, photographs, and occasional architectural drawings. They are filed alphabetically by property name and an inventory is available on request.
Las Vegas Housing Developments, Apartment Complex and Real Estate Brochures: More than a thousand brochures produced by developers and real estate companies in Las Vegas can be found. The Farnsworth Collection contains a number of Las Vegas housing development brochures from the late 1950s onward.  Other collections of interest may be found in collections related to real estate and land development.