Las Vegas is situated geographically, ethnically, and culturally within a larger region defined by the Mojave Desert; the Southwestern United States with its Spanish, Mexican, and Native American influences; and the American West as a frontier, ethnic melting pot, massive federal government presence; and the state of Nevada, in which it is the largest city and maintains its own political and economic separateness with closer links to Phoenix and Los Angeles than to Reno and Carson City.
In addition to our major collections on Las Vegas, the department collects regionally within Southern Nevada with materials on nearby Henderson, Boulder City, and Hoover Dam. Other regional areas of interest include central Nevada (Nye County) where we have acquired extensive collections regarding the mining industry in early 20th century Goldfield and Tonopah.
Featured Online Collections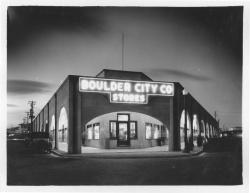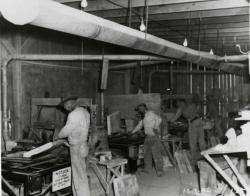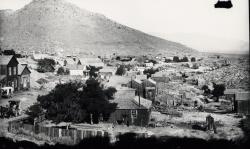 Published Works
Our records and collections begin with the migration of European Americans into Southern Nevada, first as explorers, later as ranchers, miners, settlers, speculators, laborers and entrepreneurs, and all those looking for a new life and new opportunities. The series of nineteenth-century government-sponsored expeditions beginning in earnest with that of John C. Fremont, that crisscrossed the west to survey, map, collect, and record scientific data, published their findings in the multi-volume sets of government publications, maps, and atlases, which provide our earliest comprehensive record of the region.
Special Collections holds a number of books on the locales surrounding Las Vegas from Hoover Dam and Boulder City to mining towns such as Searchlight, Goldfield, Tonopah, and the mining towns of nearby Lincoln County. The Nevada Historical Society Quarterly provides a number of scholarly articles on the history of Nevada. There is an online index and pdf copies of almost all issues through 2010 are available online.
Manuscripts
Mining in Southern Nevada, first in the Pioche and Caliente districts and in Eldorado Canyon in the late nineteenth century, boomed when gold and silver were discovered in Tonopah and Goldfield in 1902 north of Las Vegas. This last great American gold rush is well-documented and represented in our extensive mining collections, which include photographs, newspapers, personal correspondence, and the corporate records of a number of large mining companies. These include the Goldfield Consolidated Mining Company and Tonopah Mining Company, the largest mining companies of the time, as well as the UNLV University Libraries Collection on Nevada Mining, Florence--Goldfield Mining Company Records, Nevada-Utah Miners & Smelters Corporation Records, and Techatticup Mine Records.
The personal papers of C.A. Earle Rinker with their extensive correspondence provide a fascinating glimpse of life in Goldfield from 1906-1908, as does the Goldfield, Nevada Collection which provides insight into community life in this mining town.
A large selection of materials drawn from these mining collections can be browsed online in our digital project Southern Nevada: the Boomtown Years.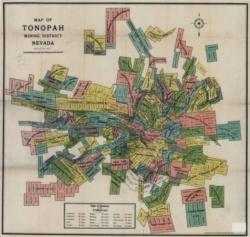 The Union Pacific Railroad, which laid out the original town of Las Vegas around its depot and train yards, connected Las Vegas to Los Angeles and Salt Lake City, and with the surrounding mining towns and districts. Its corporate records in Special Collections document the railroad's interests and operations along its various branches outside Las Vegas including the development of National Parks in Zion, the Grand Canyon, Bryce Canyon, and Cedar Breaks.
Just adjacent to Las Vegas is Henderson, and its historical legacy is documented in a number of collections on Basic Magnesium, Inc.. The history of its Carver Park housing development, which was built specifically for black workers at the Henderson-based plant, is available in oral histories and photographs. The construction of Hoover Dam and Boulder City is found in a number of manuscript collections as well as oral histories and literally thousands of photographs in our collections.
Hundreds of maps documenting Clark County including Henderson, Boulder City, Hoover Dam, as well as central and southern Nevada mining districts can be found in Special Collections. There are a wide variety of maps which focus on the geological and topographical landscape of the region outside of Las Vegas.
Photographs
Special Collections holds a vast collection of images documenting the southern and central Nevada region. In addition to photos of Henderson, Boulder City, Searchlight, and other small towns in Clark County, we have numerous historical images of the mining towns and camps of Nye and Lincoln County. These include historical images of Goldfield, Tonopah, Rhyolite, Amargosa, Pioche, Caliente and others. Many of these images can be found online in the digital collection Southern Nevada: the Boomtown Years.
Other Nevada History Resources
For more information, consult our Nevada History subject guide that features a detailed list of resources related to Las Vegas and Nevada history.