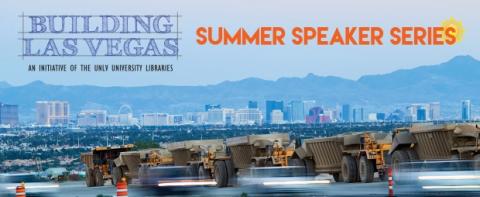 Building Las Vegas is an initiative launched in 2016 by UNLV University Libraries Special Collections & Archives to collect and preserve the history of the growth of our city. The Summer Speaker Series features panel discussions from experts who have helped direct and shape this growth. Learn more about the project at the Building Las Vegas webpage.

Location
Auditorium of Historic Fifth Street School
401 S. 4th St., Downtown Las Vegas

Reimagining Downtown
Thursday, July 6 | 5:30pm-7:30pm
This panel of experts will examine past and present plans for the redevelopment of Downtown Las Vegas as a tourist and entertainment destination and as an urban residential neighborhood.
Panelists
Curtis L. Myles, III, CEO and President, Las Vegas Monorail Company
Thomas J. Schoeman, AIA, Architect
Donald D. Snyder, Presidential Advisor for Strategic Initiatives, UNLV
---
A Woman's Place Is . . .
Thursday, August 3 | 5:30pm-7:30pm
This panel of high-achieving women will share their experiences in shaping the growth and development of Las Vegas.
Panelists
Chris Giunchigliani, Clark County Commissioner, District E
Sharon Hwang, Vice President, JHK Investment Group, Inc. and Chinatown Plaza
Jennifer A. Lewis, Vice President, Lewis Group of Companies
Laura Jane Spina, President and CEO, RAFI Architecture and Design
---
Turning the Tide: Water in the Desert
Thursday, September 7 | 5:30pm-7:30pm
These leaders will discuss how the supply, quality, and management of water has affected the Southern Nevada region's growth and development.
Panelists
Jacob David "Jay" Bingham, Owner and President, JDB
Robert E. Lewis, President, Nevada Division, Lewis Group of Companies
Pat Mulroy, Senior Fellow, William S. Boyd School of Law, UNLV
Virginia Valentine, President, Nevada Resort Association
---
Sponsors