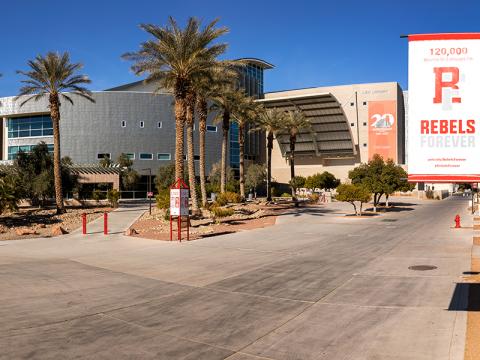 Effective June 1, University Libraries facilities end restricted access and are open to the public. IDs are no longer required for admission, and all public entrances at Lied Library are open.
In line with NSHE policy, unvaccinated individuals are required to wear a mask. However masks are not required for vaccinated individuals.
Food is once again allowed in library facilities in line with the Libraries food and drink policy.
Group study rooms are reservable. Quarantining of checked out materials has ended.
The Makerspace and Multimedia Studios will remain closed, with plans underway to reopen for the fall semester.
Computer stations will be reopened during the summer months. Additionally, furniture will be returned to library spaces over the coming weeks.
Special Collections & Archives still will have limited public hours on Mondays from 9 a.m. to 1 p.m. and Wednesdays from 1 to 5 p.m. Other times are available by appointment. Schedule an appointment by sending an email or by calling 702-895-2234.
We encourage everyone to be mindful of health protocols and to monitor their own health. The University Libraries will continue to follow NSHE, Clark County and UNLV health protocols and will adjust services and hours as warranted.