Persistent Links And Proxy For Off-Campus Access
↓ Skip To The Link Generator ↓
A persistent link is a URL that will remain stable over time allowing access to a particular article within an electronic resource, like Academic Search Premier. It is also known as a permanent, stable, or durable URL.
When sharing URLs to specific resources that you find in the Libraries' licensed databases -- journal articles, videos, images, etc. -- it's important to use the persistent URL provided in the resource record to ensure consistent and convenient access for UNLV-affiliated users. Simply copying the URL from your browser's address bar will not usually work. The WebCampus Toolkit illustrates how to find persistent resource URLs (sometimes also referred to as permanent, durable or stable URLs) in some of the more popular databases.
While many of our databases supply persistent links that will work for UNLV users on or off campus, some do not. Due to licensing agreements, off campus users need to verify their UNLV affiliation through a proxy server. If you see ezproxy.library.unlv.edu somewhere in the persistent link, that link will allow UNLV users to connect from off campus, so you don't have to use the link generator. (For more information, see the Instructions for Accessing Library Databases from Off-campus).
Examples:
From Ebsco: https://www.ezproxy.library.unlv.edu/login?url=http://search.ebscohost.com/login.aspx?direct=true&db=aph&AN=1958803&site=ehost-live
From Project Muse: http://muse.jhu.edu.ezproxy.library.unlv.edu/journals/marvels_and_tales/v019/19.1harries.html
JSTOR is an example of a database that provides persistent (stable) URLs that are not already pre-formatted for off-campus access: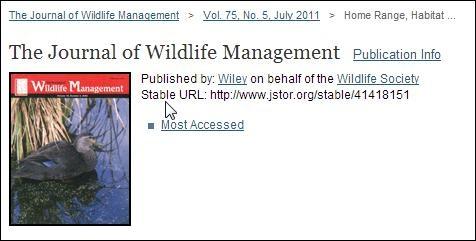 Adding the proxy prefix to the stable URL will ensure off-campus access:
https://www.ezproxy.library.unlv.edu/login?url=http://www.jstor.org/stable/41418151
You can do this manually before sharing, or use the tool below:
Proxy Link Generator

* Tip: test the new URL before sharing. Information is subject to change, as vendors update their products. If you encounter problems or have additional questions, please contact your library liaison for assistance.