You are here

Retrieving items from the Lied Automated Storage and Retrieval System
Step one:
Locate the item you want in the Library Catalog. There is currently no way to browse the items in the system, so you must search for a specific item.
In this example, we searched for the journal "Accident Analysis and Prevention." The screen shows that several volumes of this journal are in LASR.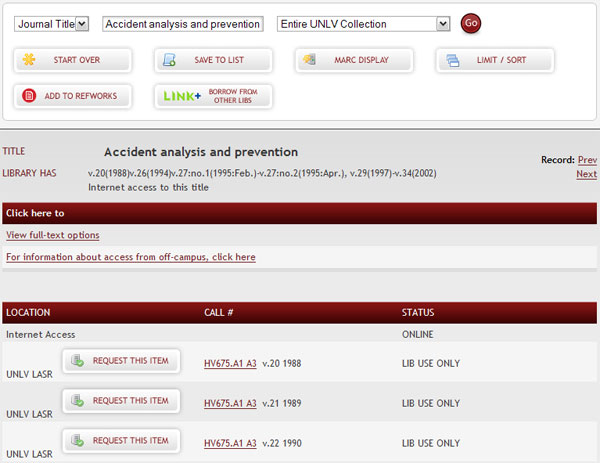 Step Two:
Click the "request this item" button next to the item you want. We want volume 20.

Step three:
The system will ask you for a name. This is the name the item will be held under when the operator retrieves it.

Step four:
Once you've entered a name and clicked "submit," you should see a message saying, "Your request has been accepted."
If you see a message saying anything else, there was a problem and your request was not accepted. This usually happens because someone else is using the item you asked for.

Step five:
Go to the LASR window on the first floor of Lied Library. The item should be waiting for you under the name you typed.