From the German Baroque to Revolutionary France, with Bill Harrah's playing cards in between, the art of printing and printmaking has captured the eye of collectors. This Reading Room exhibit highlights the visual arts of printing from three collections representing three very different collectors: a European scholar of literature, an unknown American collector of Napoleana, and a Nevada gaming mogul.
In part two of this series on his exhibit "The Visual Art of Printing," curator Peter Michel considers Bill Harrah's extensive playing card collection housed in Special Collections & Archives.
Bill Harrah and his Collections
William Harrah, founder of a corporate gaming empire that until recently bore his name, was also a collector, most famously of cars. Some of his other personal collections came to UNLV with the Harrah's Corporate Archives including a hood ornament collection, but also a collection of over 350 decks of playing cards dating from 1810. While most are standard 20th century American decks there are a number of older German, Czech, Italian and French decks dating from the 1880's and '90's which illustrate the industrialization of playing card manufacture and distribution, the international market for card decks, as well as the variety of regional card designs and games.
From Altenberg to Cartamundi: The industrialization of German Playing Cards
The playing cards on exhibit represent the most prominent playing card manufacturers in Europe. The firms of Wüst and Dondorf, A.G. Müller, Altenburger Spielkartenfabrik, Fromman & Morian, and Ferdinand Piatnik and Son, all started as small family lithographic and card manufacturing businesses, which grew into large manufacturing enterprises operating factories in many cities producing thousands of decks of cards a day. These companies sold to an international market that required not only the standard Piquet, Whist, Bridge, and Poker decks but local and regional games as well such as Tarot (in all its varieties) Trappola, Scat, Schafkopf, Doppelkopf, Watten and Schnapsen. Playing card manufacturers also produced luxury packs, often with recognizable portraits of royalty or other notables; advertising and promotional decks; reproductions of antique decks; cards with historical scenes or figures; and fortune-telling packs. When comparing decks from various manufacturers it is obvious that by the late nineteenth and early twentieth century certain patterns had become standard. The older idiosyncratic regional patterns, with their distinctive depictions of the suit symbols and court figures became standardized and simplified with mass printing and production. Manufacturers printed all suits and patterns, Italian, German, French and American, with all the national and regional variations, for an international market. After World War II, the smaller independent firms were bought out by the mega game manufacturers, the Belgian Cartamundi and the German Vereigte Altenberg-Stralsunder Spiel-Fabriken, AG.
Playing cards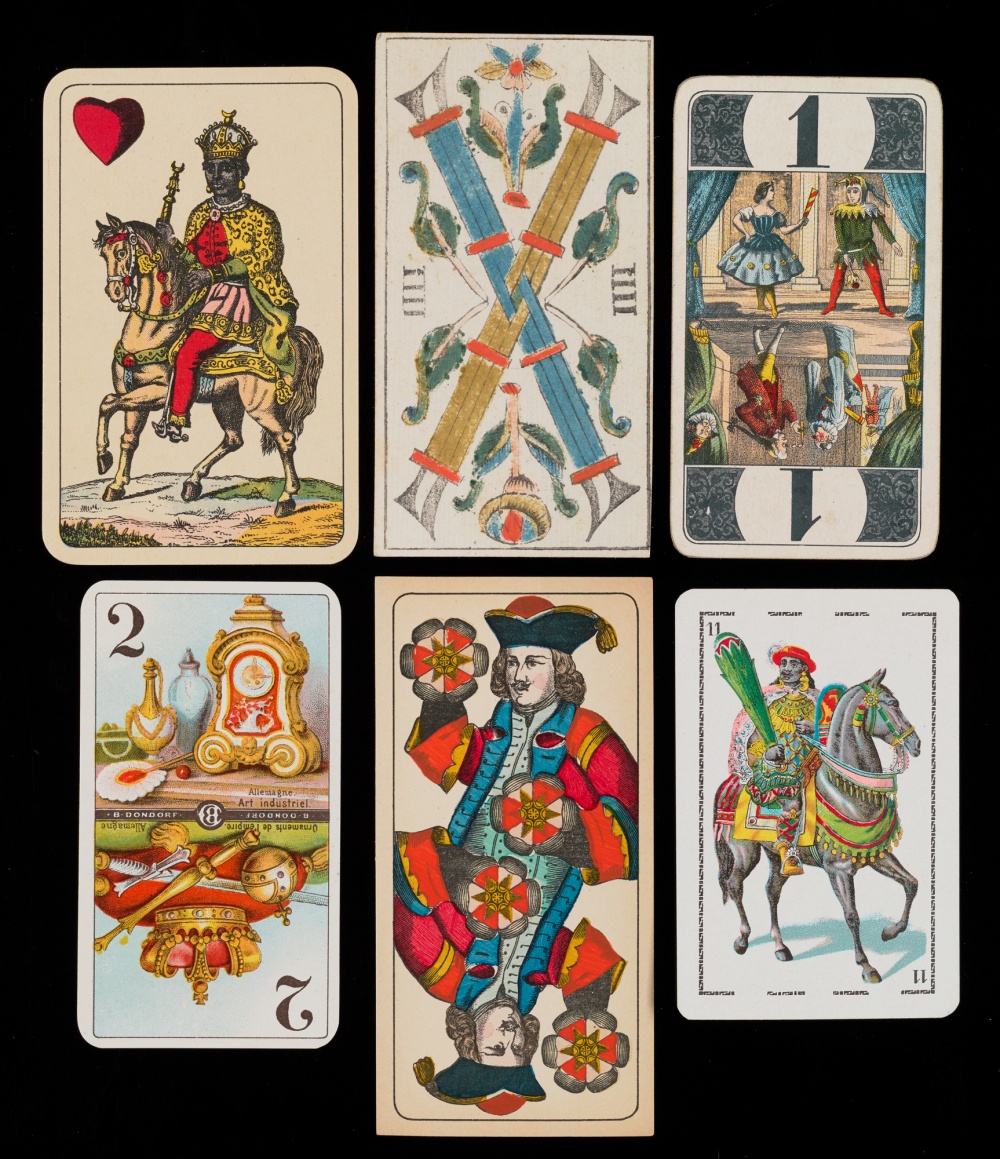 Above left to right
King of Hearts from a Prague pattern 32-card deck, Piatnik & Sohne, Vienna, face cards depicting exotic figures. ca. 1890; Four of Batons, Hand-colored Italian trappola deck. 18th c.; Number 1 tarot card, Piatnik & Sohne, Vienna with French suits. The twenty-one trump cards depict scenes from the country and court, and various trades and crafts. ca.1890
Below left to right
Number 2 tarot card, "German Industrial Arts", B. Dondorf, face cards depict famous historical characters, trump cards the arts, crafts and customs from Germany, France, England and Russia. ca. 1890; Knave of roses, Swiss 32-card Trappola deck, Ferdinand Piatnik & Sohne, Vienna ca.1870; Two of Clubs, Naipes Nationales, Mexico, Clemente Jacques, c. 1940. Spanish suits with Aztec designs by Manuel Bayardi.
View these items in the Special Collections & Archives Reading Room on the 3rd floor, LIed Library. Up next in the "Visual Art of Printing" series: A Napoleana Collection at UNLV.