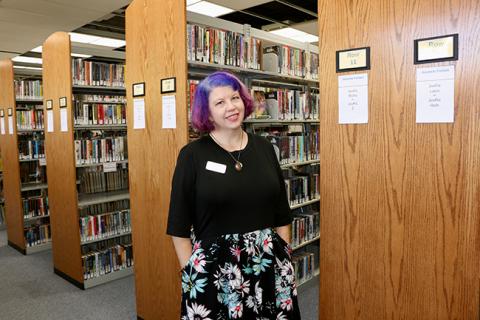 Katherine Keller, Library Technician 2 at the Teacher Development & Resources Library, has been named our 2022 Classified Staff of Year.
Keller has taken on many of the extra responsibilities of the TDRL Operations & Programs Specialist, including managing the day-to-day operation of the TDRL, handling staffing shortages, directly supervising student assistants, and overseeing services for the library users.
In the past year, she was critical in keeping the TDRL open; she prioritized the TDRL library users and student assistants while continuing to support its mission and philosophies. She worked on developing, updating and training student assistants on cleaning procedures and enforcing changes to the mask mandates at the TDRL to ensure a safe learning environment for students during the evolving situation.
Throughout the pandemic she has been a thoughtful supervisor and colleague while facing the many challenges of facility emergencies, staffing shortages, and changes in policies and procedures.