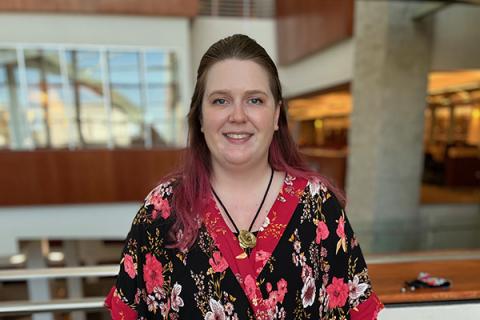 Join the University Libraries on Friday, May 27 at 3 p.m. in the Amargosa Room at Lied Library for the next William R. Eadington Fellow Colloquium, "'Family-Style' Burlesque and Women as Spectators."
Eadington Fellow Samantha Smith, a doctoral student in history at Michigan State University, will look at how Harold Minsky expanded 'family-style' burlesque at the Dunes Hotel in Las Vegas, and the role women spectators played in the style's success. An RSVP is requested.
Smith's research focuses on the histories of nightlife and entertainment in Chicago and Las Vegas during the 20th century. They have an MLIS (with a certificate in Archival and Cultural Heritage Resources and Services) from Dominican University and an MA in Public History from Loyola University Chicago.
The lecture will also be livestreamed.
The William R. Eadington Fellowship program is sponsored by the UNLV Center for Gaming Research in the University Libraries Special Collections and Archives and funds scholarly research into our collections on gaming and Las Vegas.