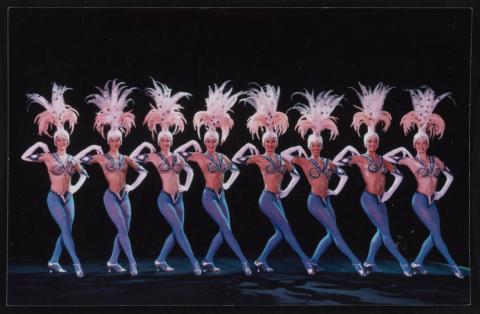 "Publicity Photographs" ent000158-001. Jerry Jackson Papers MS-00573.
Cory Lampert, Head of Digitial Collections in UNLV Libraries Special Collections & Archives, and her colleagues Emily Lapworth (Digital Special Collections & Archives Librarian) and Sarah Jones (Visiting Special Collections & Archives Technical Services Librarian) "raise the curtain" on a fabulous new digital collection that has made it possible to access hundreds of documents and photos on Las Vegas entertainment history.
Fabulous production shows were a staple of the Las Vegas entertainment industry and made the showgirl a Las Vegas icon. Today, researchers from around the world can explore this glamorous world and see behind the scenes via new digital collections from UNLV Special Collections and Archives. Historical photographs provide visual documentation of individual entertainers on stage and in publicity shots around the hotels, as well as images of dancers and showgirls and the production shows that made them famous. Manuscript collections feature the publicity records of entertainment departments which provide insight into the business of entertainment on the Las Vegas Strip and personal papers of noted Las Vegas show producers, such as Jerry Jackson, provide insight into the rarified world of the production show with its feather and rhinestone-clad showgirls and fantastic stage technology. Included in these collections are hundreds of costume design sketches from Las Vegas production shows.
UNLV Digital Collections is currently completing the digitization of three manuscript collections for public online access: the Sands Hotel Public Relations Records, the Jerry Jackson Papers, and the Donn Arden Papers. Digitized photographs, costume and set drawings, scrapbooks, correspondence, and other records  from these collections are now available in the Entertainment digital collection.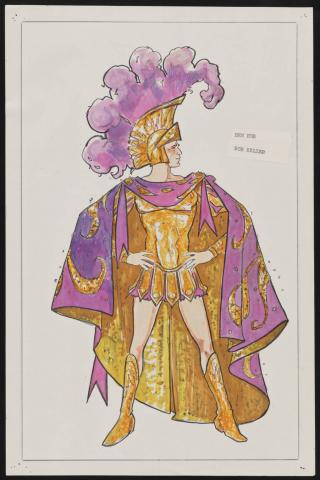 "Hallelujah Hollywood: costume design sketches - Act VIII "The Pirate" (folder 4)" ent001045-004. Donn Arden Papers MS-00425.
The Entertainment digital collection is the product of a year-long Library Services and Technology Act grant administered by the Nevada State Library and awarded to UNLV Libraries in June 2017. The grant proposal, "Raising the Curtain: Large-Scale Digitization Models for Nevada Cultural Heritage," set two joint goals for the project: 1) digitize multiple archival collections using large-scale rapid-capture models and 2) document and share these models with Nevada cultural heritage institutions via a free workshop. Just eleven months ago, the project team was formed and digitization work began. Under the leadership of Digital Special Collections Librarian, Emily Lapworth, UNLV hired a project manager and two student assistants to complete the digitization, metadata and ingest into the library's repository.
The team faced several challenges in producing over 38,000 new digital objects. They developed new workflows to optimize the capabilities of the Libraries rapid capture digital imaging equipment, they researched how best to reuse existing collection guides to aid researchers, and they overcame several obstacles to efficient processing including a set of materials that required conservation treatment.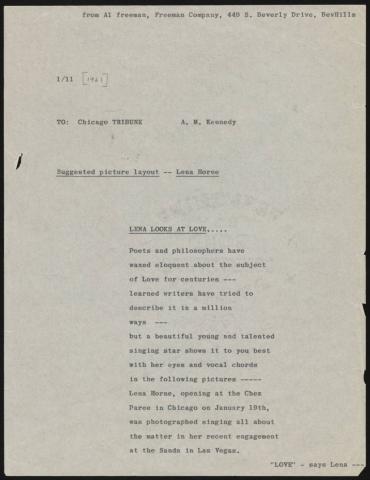 "Lena Horne" ent001076-001. Sands Hotel Public Relations Records MS-00417.
On May 18, the team welcomed 40 attendees from across Nevada and the region to UNLV for the Nevada Statewide Large-Scale Digitization workshop where a day of presentations, panel sessions and group discussions focused on how other organizations could adopt large-scale digitization models and help to ramp up digitization capacity across the state. Check out a video and photos of the workshop below.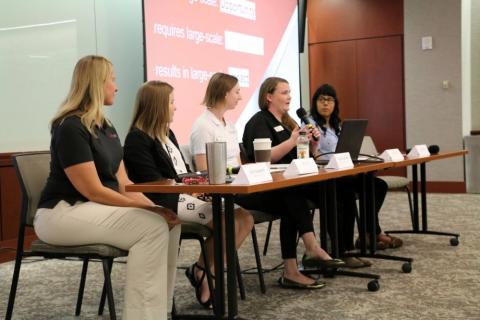 Presenters and attendees at the Nevada Large-Scale Digitization Workshop held at UNLV Libraries May 18, 2018.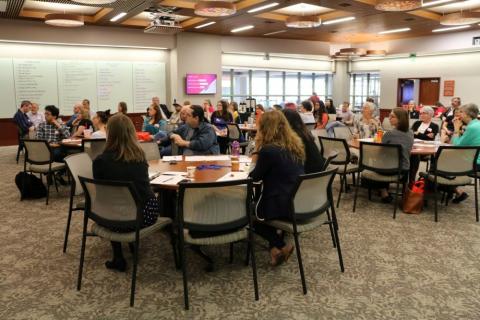 The project team digitized over 90 boxes (114 linear feet) of archival records, resulting in over 47,000 digital images. Most of the digitization was completed using a rapid-capture cultural heritage imaging system. Optical character recognition (OCR) software was used to make the text materials fully searchable. The materials may be accessed at http://d.library.unlv.edu/digital/collection/ent. Many of the digital objects in the Entertainment collection are actually entire folders of materials, sometimes a mixture of photographs and documents, so be sure to explore beyond the thumbnail images in the search results! If you have any questions about the materials, we would love to hear from you at special.collections@unlv.edu.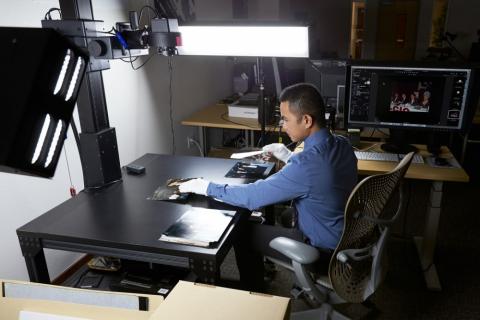 The rapid-capture cultural heritage imaging system used by UNLV Digital Collections. Photo by Aaron Mayes.
The "Raising the Curtain" grant project team was: co-principal investigators Cory Lampert and Emily Lapworth, project managers Sarah Jones and Amy Check, and student assistants Giselle D'Souza, Cindi Mercado-Rosas, and Ashanti Taylor.