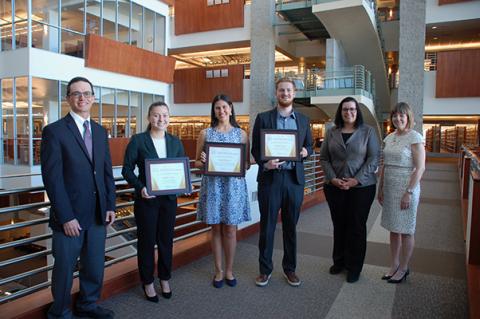 The University Libraries have selected four UNLV undergraduate students as the winners of the 2021 Lance and Elena Calvert Awards for Undergraduate Research. The awards, funded through an endowment established by Lance and Elena Calvert, encourage undergraduate UNLV students to master the art of research to become successful, self-sufficient, lifelong learners.
"While this school year has been challenging in many ways for our students, the work submitted by the winners of this year's Calvert Awards demonstrates the talents and passions of undergraduate researchers here at UNLV have continued to thrive during the pandemic," said Maggie Farrell, dean of libraries.
This year's winners include:
Isabella Chung, senior biology major
Project: The Aftermath of Sexual Assault: Creating the "I Am More Than My Experience" Workbook
Category: Advanced Undergraduate
Faculty Sponsor: Dr. Lisa Menegatos, Honors College
Natalie Johns, senior biochemistry major
Project: Comics for Pediatric Oncology Patients and Families: Education and Empowerment
Category: Creative Works
Faculty Sponsor: Dr. Bryan Blankfield, Honors College
Nathalie Martinez, senior French and anthropology major
Project: Spanish from the "East Side" of Las Vegas: Simplification of Tense/Aspect Distinction in Ser and Estar in Spanish Heritage Speakers of Sunrise Manor
Category: Advanced Undergraduate
Faculty Sponsor: Dr. Margarita Jara, Department of World Languages and Cultures
Michael Schwob, senior mathematics major
Project: A Calibrated Agent-based Model for Tracking SARS-CoV-2
Category: Advanced Undergraduate
Faculty Sponsor: Dr. Bryan Bornholt, Honors College
---
Applicants submit a reflective essay on their research and a letter of support from a faculty member as part of the application process. Winners receive a cash prize and have their work published in Digital Scholarship@UNLV, the institutional repository for university research.
Ceremony