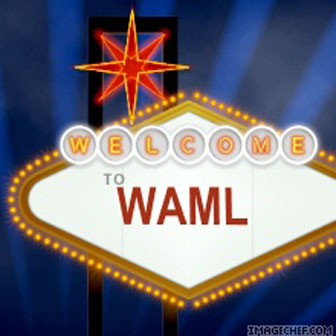 Western Association of Map Libraries (WAML)
Spring 2008 Meeting
University of Nevada, Las Vegas
Las Vegas, Nevada
March 12-15, 2008
Locations:
University of Nevada, Las Vegas (UNLV).  Stan Fulton Building, Lied Library.  4505 Maryland Parkway
Atomic Testing Museum 755 E. Flamingo Rd.
Map of the meeting and special event sites
Registration:

Registration form.
Please register NO LATER THAN MARCH 1, 2008. THERE WILL BE NO ONSITE REGISTRATION. If you want to attend the Cirque Du Soleil show, please let me know no later than 5:00 p.m., February 11th as I have to make the reservations a month in advance.  
Schedule:
Wed., March 12th
1:00-4:30 p.m.                               Executive Board, J. A. Tiberti Board Room, Lied Library, UNLV
5:00-7:00 p.m.                               Early bird dinner Main Street Station Casino Buffet  $10.99 
Main Street Station Garden Court Buffet
7:00-approx. 9:00 p.m.                 Cirque du Soleil show (optional)
Cirque Du Soleil Shows in Las Vegas
Thurs., March 13th
8:15-9:00 a.m.                               Registration, coffee, etc., Stan Fulton Bldg., UNLV
9:00-9:15 a.m.                               Welcome remarks and introductions
9:15-10:00 a.m.                             Colin Robins, geosciences graduate student,
Comparison of Flood Hazard Assessment on Alluvial Fans Using FEMA, NRCS, and Surficial Geologic Maps: A Case Study in Ivanpah Valley, Nevada
10:00-10:30 a.m.                           Break
10:30-11:30 a.m.                           Committee meetings
11:30 a.m.-1:00 p.m.                   Lunch on your own
1:00-1:45 p.m.                              Liz Warren, historian, Time and Topography: Mapping the Old Spanish Trail
1:45-2:30 p.m.                              Jon Jablonski, map librarian, Creating Online Indexes for Historic Map Series: the University of Oregon Experience
2:30-3:00 p.m.                              Break and travel to Atomic Testing Museum
3:00-5:00 p.m.                              Tour of Atomic Testing Museum (guided)
6:30-8:30 p.m.                               Banquet. Carluccio's Tivoli Gardens
Carluccio's Tivoli Gardens Restaurant
Fri., March 14th
8:30-9:30 a.m.                               Business meeting, Stan Fulton Bldg.
9:30-10:00 a.m.                             Sounding board
10:00-10:30 a.m.                           Break, travel to Lied Library
10:30-11:30 a.m.                           Lied Library tour
11:30 a.m.-1:00 p.m.                   Lunch on your own
1:00-2:00 p.m.                               Demos of map preservation, map scanning, viewing maps in Special Collections
2:00-3:30 p.m.                               Hands-on part of map preservation workshop
3:30-4:00 p.m.                              Break
4:00-4:45 p.m.                               Peter Michel, director of UNLV Special Collections Dept., Wagon Trails to Railroads to Highways: the Early Maps of Southern Nevada
5:00-6:30 p.m.                              Reception
6:30-? p.m.                                    Optional Strip tour or dinner on own
Sat., March 15th
8:00 a.m.—6-7 p.m.                     Field trip to Death Valley—guided by geologist and naturalist.  Leaving from UNLV Paradise Campus.  Includes lunch.  $98
DEATH VALLEY BUS TRIP ITINERARY
SATURDAY, MARCH 15, 2008
Departing Las Vegas 8 a.m.
Motorcoach transportation
Returning approx. 6:00-7:00 p.m.
Trip Leaders:
Cris Bosselman, geologist
Kent Wirtz Botanist
Depart Las Vegas and drive toward Beatty for a stop at Rhyolite Ghost town
Enter Death Valley from the north near Beatty
Various stops in Death Valley to explore, investigate, and take short walks: such as the Sand Dunes, Salt creek, Bad water, Devil's cornfield
Stop at Furnace creek visitor center, box lunch included
Exit Death Valley from the south at Death Valley Junction
Return to Las Vegas
$98 per person
Priced at a min. of 27 paying passengers
Trip includes:
Instruction, motorcoach transportation, Death Valley park entrance fees, water, light snacks, and box lunch.

Accommodations:
There is no conference hotel.  Here is a list of hotels and motels reasonably near the university that still have rooms available now (Dec. 2007) and have rooms for less than $200 (although not necessarily rooms with two beds for less than $200).
Best Western McCarran Inn
4970 Paradise Rd.
Extended Stay Deluxe
1550 East Flamingo Rd.
Extended Stay Deluxe Las Vegas East Flamingo
A caveat:
Extended Stay Hotels is committed to ensuring a clean room at a reasonable price. Services are scheduled based on the number of nights reserved, i.e. 1-6 Nights – Towel exchange is available at the Front Desk; 7+ Nights – One Full Service provided each 7 days.
Full Service (provided each 7 days) includes dusting, vacuuming, changing linens and towels, emptying trash, cleaning of bathroom and kitchen, and replenishing soap and toilet paper if needed.* Additional Full Service can be purchased at $10 per service.
Refresh Service (optional service) includes replacing soiled towels, emptying trash, replenishing soap and toilet paper if needed, and making bed with existing linens.* Refresh Service may be purchased at $5 per service.
*Dishes are not washed during either service.

La Quinta Inn Las Vegas Airport
3970 Paradise Rd.
La Quinta Inn Las Vegas Airport
Motel 6 Las Vegas--Tropicana
195 E. Tropicana Ave.
Terrible's Hotel & Casino
4100 Paradise Rd.
There are other casinos and hotels to stay at.  Here are some general Las Vegas websites where you can go for information.  Package deals with air fare, hotel, and maybe rental cars may be available.
Transportation:
Parking:
Parking on campus requires a $3.00 per day visitor parking permit.  There is a place on the registration form to request permits.  No permit is required on Saturday.  No permit is required for the Desert Research Institute/Atomic Testing Museum.  You may park in a student parking space.  Parking map:
UNLV Parking Map
Transportation from the airport:
Shuttle services:
A variety of shuttle/limousine services are available at McCarran, and are located on the west side of the baggage claim, outside door exits 8-13. Please note that there are both group shuttle and "for-hire" stretch limousine services.  Prices for a non-strip hotel range from $6-12 one way.  Prices for a Strip hotel range from $5-6 one way.  There is no Super Shuttle here.
Taxis:
Taxis are available on the east side of baggage claim, outside door exits 1-5.  They do not accept credit cards.  There is a fee of $1.20 added to all fares originating at the airport.  Fares start with $3.30 on the meter, and $2.20 is then added for every additional mile.
Sample taxi cab fares in Las Vegas
Buses:
There is a Citizens Area Transit (CAT)  bus route that stops at the airport and goes along Maryland Parkway, which is the street UNLV is on.  The fare is $1.25. Buses require exact change. The fare for the double-decker buses called The Deuce that run on certain routes is  $2.00.  An all-day pass is $5.00.
Rental cars:
There is a Rent-A-Car center for the airport.  Shuttles depart for it every five minutes.  Exit through door 10 or 11.
Getting around Las Vegas:
There are buses, trolley buses, and the monorail.
How to plan a trip on the bus system
The problems with the monorail are it's expensive ($5.00 a ride although there are all day passes), the seats are uncomfortable, sometimes the tickets don't work, and it doesn't go to every casino on the Strip
Other Las Vegas sights:
Springs Preserve.  This is new, and it has a desert garden and a series of museum galleries.
Bellagio sights. Bellagio Conservatory.  The flowers are changed five times a year.  The Dale Chihuly glass ceiling is also in this casino.  There are also fountains outside that dance to music.
Liberace Museum.  This museum has been renovated since WAML met in Las Vegas in 1995.  The museum even has shuttle service.
Clark County Heritage Museum. Museum is very inexpensive and includes historic building and permanent and changing exhibits on the history of this area.
Contact information:
Katherine L. Rankin
Special Collections Catalog Librarian
Bibliographic & Metadata Services Dept.
University Libraries
University of Nevada, Las Vegas
4505 Maryland Parkway Box 457034
Las Vegas, NV 89154-7034
702-895-2224
Fax 702-895-2280
katherine.rankin@unlv.edu