You are here

Locations of the UNLV Libraries
Print in landscape format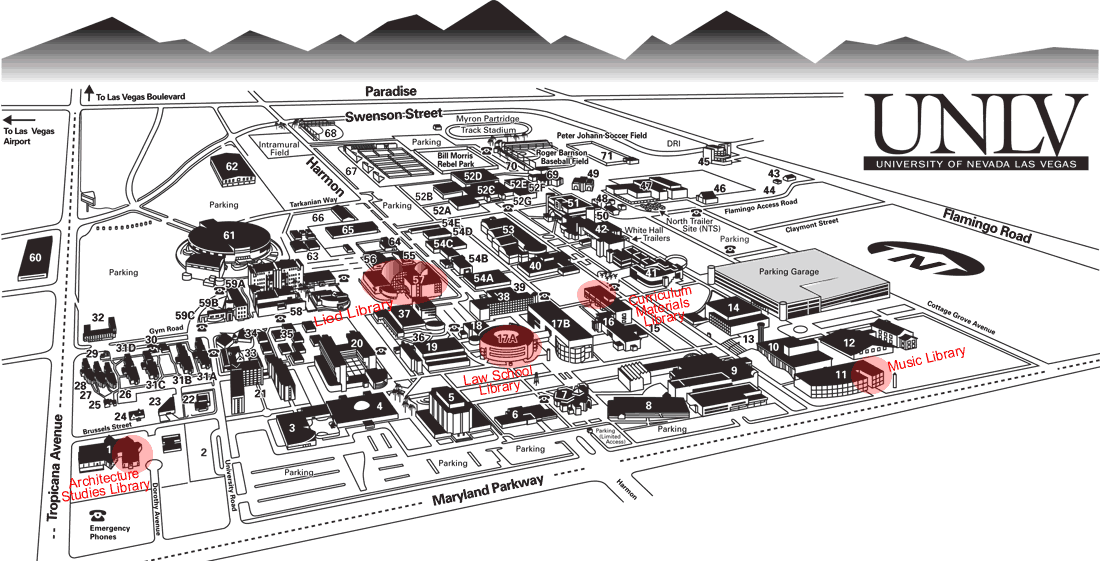 NUMERICAL LEGEND

1. Paul B. Sogg Architecture Building (ARC)
Architecture Studies Library

2. Future site Greenspun College of Urban Affairs

3. UNLV Bookstore (BKS)

4. UNLV Student Union (MSU)

5. Flora Dungan Humanities (FDH)

6. Maude Frazier Hall (FRA)

7. Richard Tam Alumni Center (TAC)

8. Archie C. Grant Hall (GRA)

9. Alta Ham Fine Arts (HFA)

10. Judy Bayley Theatre (JBT)

11. Beam Music Center (BMC)
Music Library

12. Foundation Building (FND)

13. The "Flashlight"

14. Artemus W. Ham Concert Hall (HCH)

15. Holbert H. Hendrix Education Auditorium (HEA)

16. William D. Carlson Education (CEB)
Teacher Development & Resources Library (Room 101)

17A. William S. Boyd School of Law (BSL)
Wiener-Rogers Law Library

17B. James E. Rogers Center for Administration and Justice

18. UCCSN Computing Services (SCS)

19. John S. Wright Hall Buildings (WRI)
(under renovation)

20. Frank and Estella Beam Hall (BEH)

21. Tonopah Residence Complex (TON)

22. LDS Institute of Religion Student Center

23. Interfaith Student Center

24. Houssels Building (HOU)

25. Gym Road South Resident Services Building
(RHW)

26. Kitty Rodman Residence Hall (KRH)

27. William S. Boyd Residence Hall (WBH)

28. Claudine Williams Residence Hall (CWH)

29. Residential Life Housing Administration Building (HAB)

30. Eugene Warner Residential Life (WRL)

31. Gym Rd. Residence Halls - Hughes (A, B, C, Faiman(D))

32. Dayton Complex Residence Hall

33. Hazel M. Wilson Dining Commons (DIN)

34. Claude I. Howard Student Health Services (SHS)

35. Central Desert Complex (CDC)

36. Desert Landscape Garden

37. Marjorie Barrick Museum of Natural History (MSM) and Harry Reid Center for Environmental Studies (HRC)

38. Lilly Fong Geoscience (LFG)

39. Technology (TEC) and Radiation Protection Laboratory (RPL)

40. Chemistry (CHE)

41. Thomas T. Beam Engineering Complex (TBE)

42. Juanita Greer White Life Sciences (WHI)

43. William D. Taylor Hall (TAY)

44. Limnological Research Center (LRC)

45. Stan Fulton Building (IGI)

46. Boy's and Girl's Club Building (BGC)

47. Paradise Elementary School (PES)

48. Lynn Bennett Early Childhood Development Center (LBC)

49. Bennett Professional Develpment Center (BDC)

50. EPA Modular Office Complex

51. Rod Lee Bigelow Health Sciences (BHS)

52. Paul McDermott Physical Education (MPE)
A. Offices
B. Lied Gymnasium (south)
C. Locker Rooms
D. Buchanan Natatorium
E. Gymnasium (north)
F. Racquetball Courts
G. Sports Injury Research Center (SIR)

53. Robert L. Bigelow Physics (BPB)

54. Environmental Protection Agency
A. Chemistry Laboratory
B. Executive Center
C. Monitoring Systems Laboratory
D. Quality Assurance Laboratory
E. Exposure Assessment Annex55. University Hall (UNH)

56. Publications/Reprographics/Copy Center (PRO)

57. Lied Library (LLB)

58. Classroom Building Complex (CBC)

59. Student Services Complex (SSC)
A. Jean Nidetch Women's Center
B. Donald W. Reynolds Student Services Center
C. Newmont Student Development Center

60. Paradise Campus/Educational Outreach (PAR)

61. Thomas & Mack Center (TMC) and Cox Pavilion (CPB)

62. Campus Services Building (CSB)

63. Research Administration Building (RAB)

64. Claude I. Howard Public Safety (PSB)

65. Herman Westfall Building (HWB)

66. Facilities Management Administration (FMA)

67. Frank and Vicki Fertitta Tennis Complex (FTC)

68. Eller Media Stadium (EMS)

69. Lied Athletic Complex (LAC)

70. Earl E. Wilson Baseball Stadium (WBS)

71. Robert Miller Soccer Building (MSB)

PARKING AREAS MAY BE RESTRICTED.